Moms who know us and know about Anna's special needs ask me often about getting help for their child. Should we have our child evaluated? Should we take our child for occupational therapy? Should we let a therapist come to our house? Is speech therapy worth it?  My answer now is very different from my answer when Anna was just two years old.  Back then, I still thought getting a diagnosis would be more harmful then helpful.
I didn't understand why having an occupational therapist would be beneficial.  In fact, my pediatrician's exact words to me were:  "Someone will come to your house and play with her twice a week."  My response?  "Why would I need anyone to come play with her? I play with her all the time. Her siblings play with her all the time too. We already spend one-on-one time with her all day long.  That's a waste of money."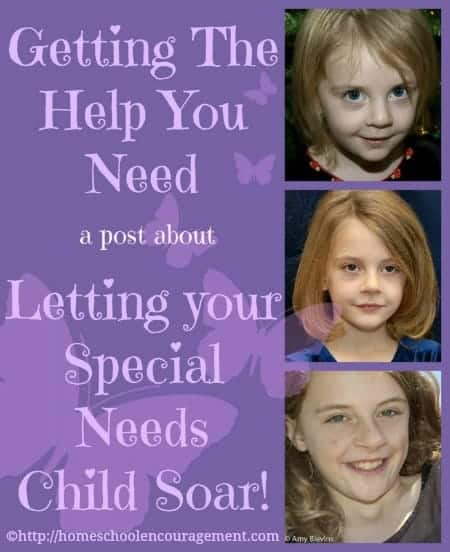 A few years later, and this truth began to be very clear: Anna's speech and muscular issues were not going to get better on their own.  We needed help.  Only at that point did I begin to understand what my well-meaning pediatrician meant.  Occupational therapy for a special needs child is not just play.  It's focused play.  Play that specifically targets problem areas.
We started Anna in speech and occupational therapy when she was six, and suddenly found out how many things we were handling incorrectly.  For instance, because Anna did not have much strength, we did not have her help carry groceries in or carry laundry baskets up and down the stairs.  We have always had our other children help, but we didn't push Anna in this area.  The very first thing Anna's amazing OT said was: "You need to give her more 'heavy work'.  Have her carry laundry and grocery bags.  Have her do jobs that use her muscles."  Oops.
Another example.  Because Anna struggled so much with writing her letters and her handwriting was illegible I would often allow her to skip the writing assignments in her phonics and math curriculum.  I would either write the answers for her or skip the work entirely as long as she could read the words.  Our OT pointed out that Anna needed to do those things even if her best work was still illegible.  Avoiding her areas of weakness was the exact opposite of what we needed to be doing during those three years!
Anna has been in OT for three years and the progress she has made is amazing and wonderful.  She still has room to grow and she works hard every week.  I often wonder where she would be if we had started OT back when she was two.  Would her handwriting be amazing?  Would her core strength be in keeping with her age?  Would she be able to do push-ups?  Would she have learned to bike or rollerblade earlier?  Would she even need OT today?  I don't know.
I do know that getting help was not the big deal I thought it would be.  Anna adjusted to therapy appointments very quickly and caught up in speech within twelve months.  She has a good attitude for her therapist most days.  They work hard and have a lot of fun.  We trouble shoot problem areas as a team and work together to solve issues.  Not one of our therapists has fussed about dishes on the counter or toys on the floor.
Using an occupational therapist to deal with Anna's areas of struggle has been a mostly positive experience and the negatives have had to do with moving and insurance, not our actual therapy experience!  If I had it to do over, I would start occupational and speech therapy when she was two years old.
If you have a child whom you suspect has special needs, get the help you need and get help early if you can.  It is more work to get services for your child as a homeschooling family but the dividends are worth it in spades.