The first step to make this deliciously beautiful Red Velvet Cheesecake with Chocolate Ganache for Valentine's Day is to mix up the red velvet brownie crust. Doesn't that just set the tone? I love the contrast of the cocoa powder and the flour in this bowl of dry ingredients.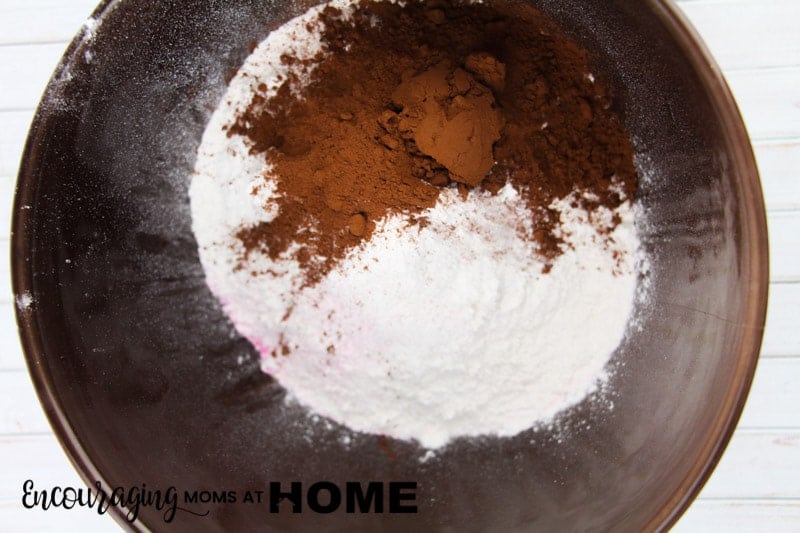 While the brownie crust is cooling, you will mix up the no-bake cheesecake filling and get it ready. This gorgeous pink color is perfect for your Valentine's Day candlelight dinner, after date dessert, or family celebration! This part will need to set in the refrigerator for at least two hours, so plan ahead and don't try to make this cheesecake the day of your event.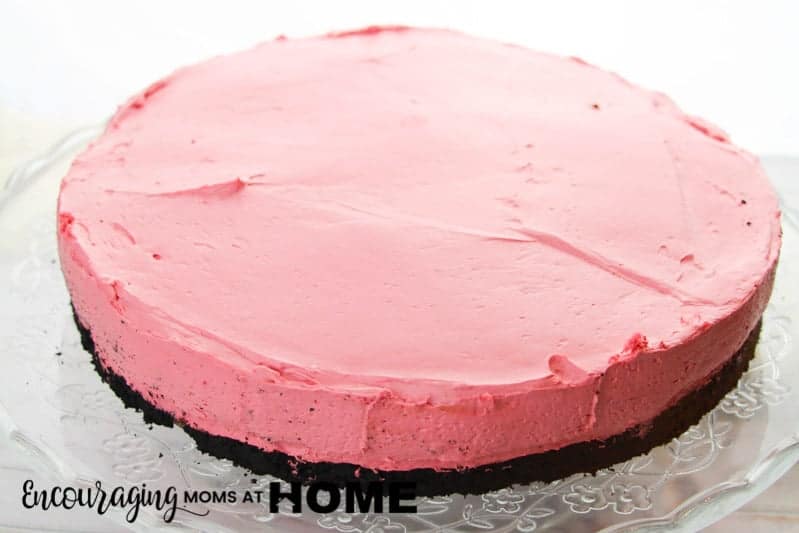 After your red velvet cheesecake is fully set, you can remove it from the springform or push pan, and get it onto the final plate where you will serve it. This is where we add the chocolate ganache, so having it in its final resting spot is crucial! You are ready to create your chocolate ganache sauce and pour it over the top of your cheesecake.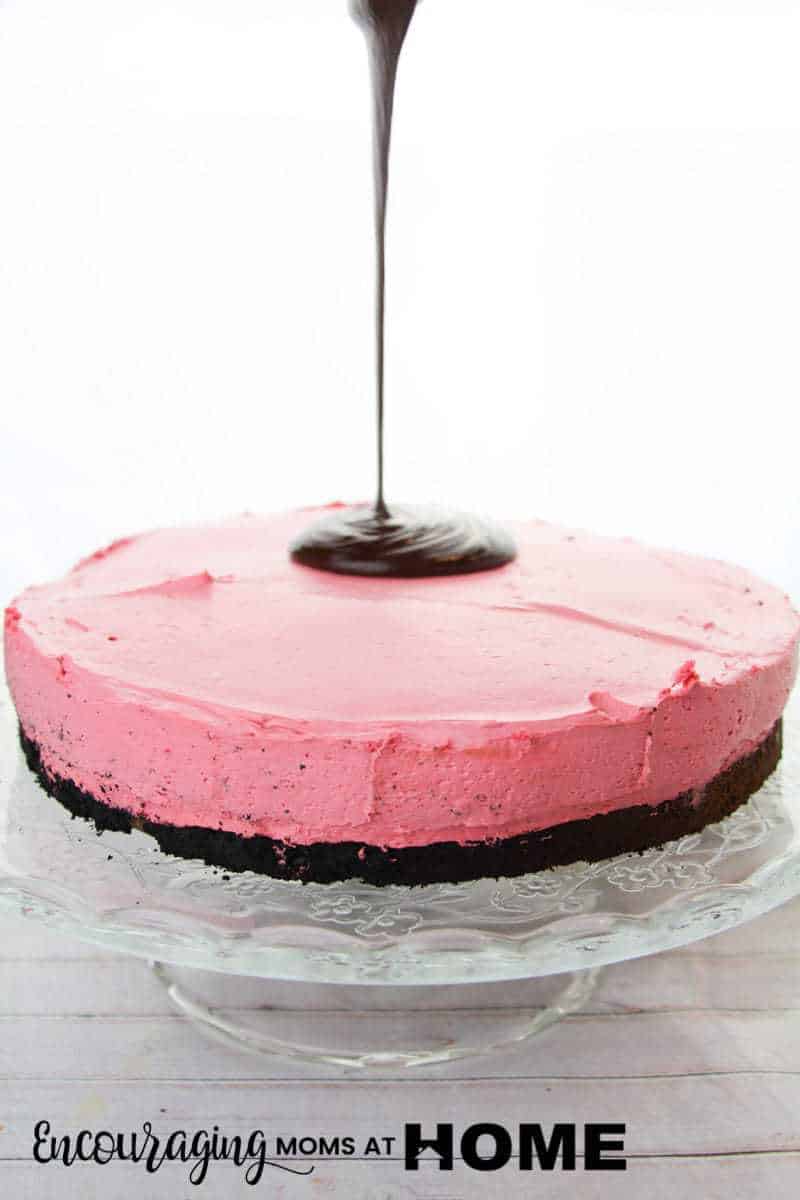 Oh man, this picture makes me want to go ahead and make the recipe right now! Here's a different angle of the chocolate ganache going just to get your tastebuds going.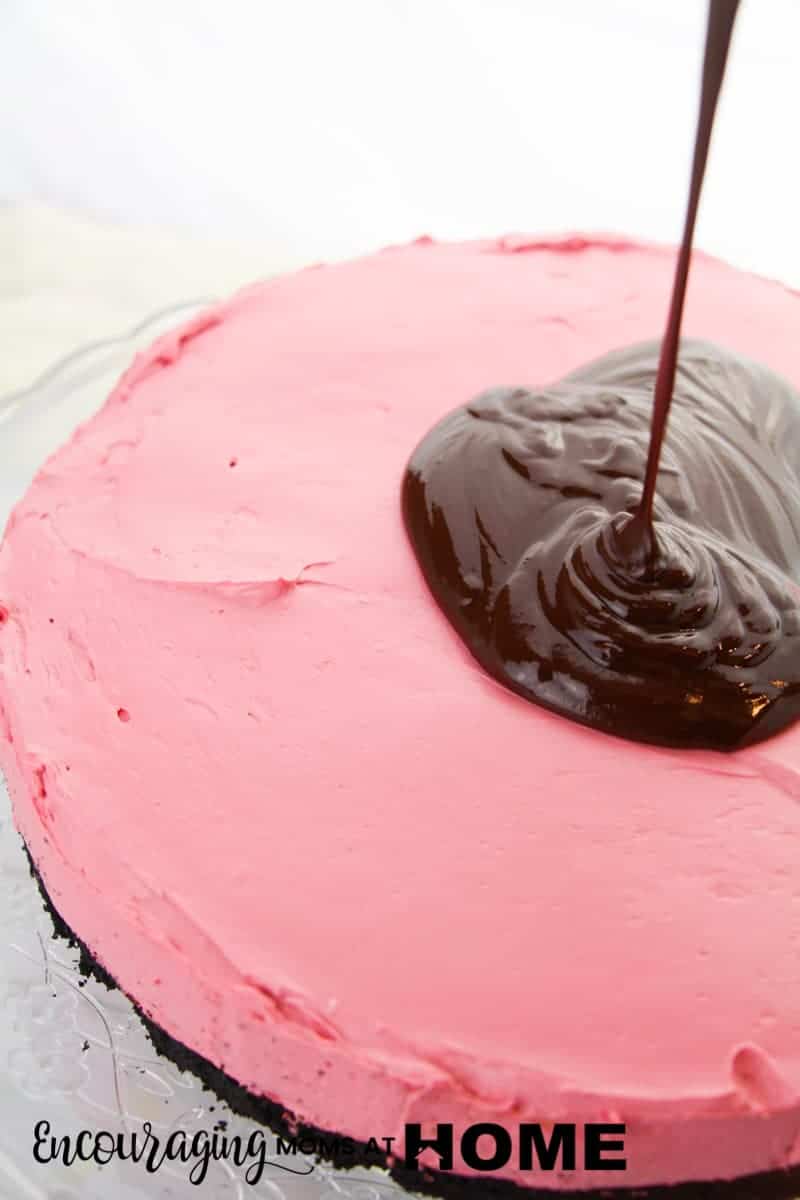 For a special finishing touch, you can add some crushed cookies or sprinkles to the top. This is a mix of chocolate sprinkles with pink and gold sugar. So pretty!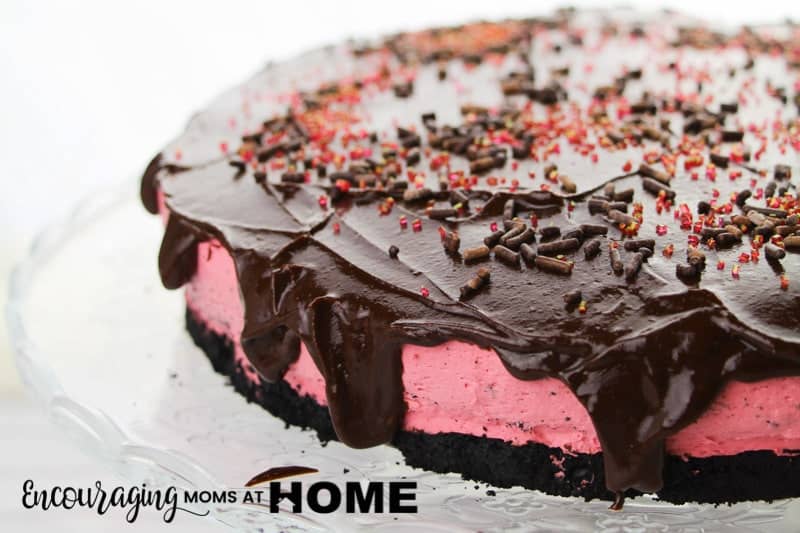 The end result is a decadent, delightful, and downright gorgeous Red Velvet Cheesecake with Chocolate Ganache for Valentine's Day or any time you have a craving for it. Look at the yumminess!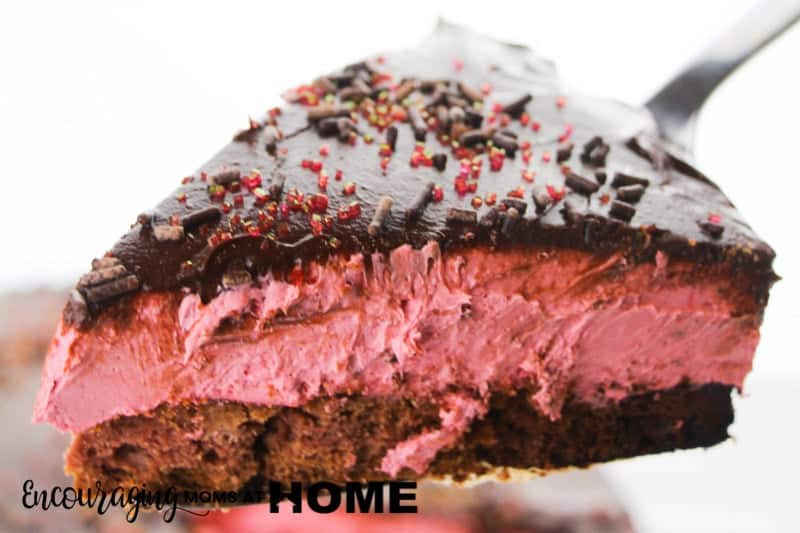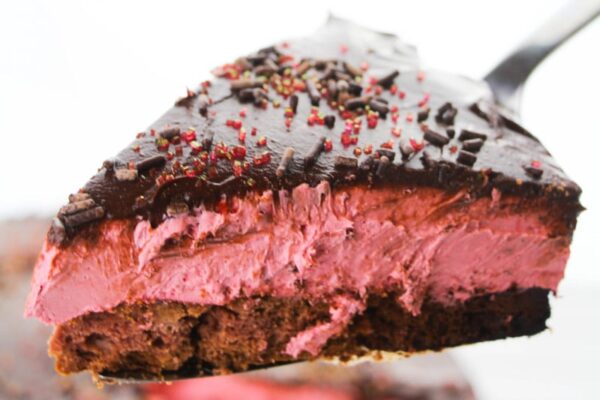 Red Velvet Cheesecake Filling
Directions: Grease and line a 9" springfoam pan. Set aside.

Remove cream cheese from fridge to soften.
In a small bowl, combine the eggs, vanilla, oil and white sugar until light and fluffy, about two minutes.

Stir in the milk and set aside.

In a large bowl, whisk together the flour, baking powder and cocoa powder.

Mix in the wet ingredients, then the red food dye and vinegar, if using.

Scrape the batter into the prepared pan and bake for 25-30 minutes until an inserted toothpick comes out clean.

Let the crust cool as you prepare the filling.
Whip the cream for 4-6 minutes until soft peaks form. Set aside.

In a separate bowl, mix the cream cheese and white sugar until soft, then dye with red food dye just a shade darker than desired.

Fold in the whipped cream and stir by hand until combined.

Spoon the cream cheese mixture over the crust and smooth down with an offset spatula.

Place the cheesecake in the fridge until set, about 2 hours.
Place semi-sweet chocolate in a heat-proof bowl and place 1/2 cup whipping cream in a saucepan over medium heat and bring to a boil, stirring occasionally.

Pour the whipping cream over the chocolate and whisk until no lumps of chocolate remain. Let cool completely before pouring over cheesecake.

Top with crushed cookies or sprinkles, optional.
*a small McCormick's red dye is equal to 1 Tablespoon red dye.