Do you want this to be your best homeschool year? Me too, and I know it will be. Why? Because every year we learn more, we tweak and improve our homeschool approach, curricula, and routine to adjust to our family's rhythm.
We learn at our own pace as we grow closer together as a family. Our relationship is getting stronger and finally, I feel such a joy in being able to pour into my kids daily.
But it wasn't always like this. Nope. Not at all. It wasn't long ago that homeschooling was nothing but exhausting and overwhelming to me and the kids. My kids were hating homeschooling and my mental and physical exhaustion caused me to burn out completely.
It was then that I started to read books and blogs about homeschooling. I joined online homeschool support groups and I saw I needed to completely change my homeschool approach. Because clearly, it wasn't working, right? I was determined to have my best homeschool year, and I did!
At first, I had to become much more relaxed about my approach and lower my expectations. Being a type A mom, I acted more like a sergeant giving orders than a loving mom teaching my kids. I knew I had to become more flexible and fun.
So we started to have fun together; we did less work but we did it better and accomplished so much more. The huge stress we had on our shoulders began to lift. Joy took over our days as a family sitting on the sofa reading books or around the dining room table playing board games. I finally felt fulfillment – a huge sense of mission accomplished day after day.
To Have Your Best Homeschool Year You Need to Honestly Evaluate Yourself
I could blame bad curricula as much as I wanted to, or the schedule that didn't work, or the child who was highly distracted – all.the.time! Do you have one in your house, too? Earphones with classical music solveed that. Well, at least it did here. Thank God!
The blame game did not stop until the day I honestly evaluated myself. "Am I really facilitating learning as a natural part of our daily life? Or am I forcing it down their throats?" "Am I expecting too much of them?" Friend, I did a real soul search before I figured out what was wrong and yes, I was the biggest problem of all. I wasn't being intentional enough, I had no clear goals or direction, and I was simply copying what I saw attending public school most of my life – another big mistake – yikes!
Please do learn from my mistakes. Here are the five things that really changed our homeschool for the better.
5 Tips to Have Your Best Homeschool Year
1 – Set Clear Goals for Your Homeschool
Think of your goals as the GPS that takes you to the right destination in your homeschool. Having a clear direction for your homeschool means less waste of time and more productivity, more clarity, and a sense of accomplishment.
To help you set clear goals for your homeschool, stop for a minute and think about your "whys." What are your reasons to homeschool your children? Your whys will often be your very long-term goals and will help you set the right priorities for your homeschool.
In my 5 Days to Your Best Homeschool Years e-course, I teach homeschool moms the importance of building a strong foundation for their homeschool, and this starts with knowing your "whys," defining long-term and short-term goals, and writing a mission statement. Just like a house needs a strong foundation to survive strong winds, so does your homeschool. And these are the very things you can look back to frequently, to help you remain standing on your purposes and plans for homeschooling your children when tough times come.
Take a few minutes to write down your reasons for homeschooling. What are the big goals you want to accomplish by homeschooling? Think about your homeschool in general but also set clear goals for each of your children and also for yourself as a homeschool mom. Write these goals down and place it where you can constantly revisit and revise it.
2 – Know Your Students
One of the greatest lessons I learned in this past year or so was the importance of becoming a student of my children. Our kids are not cookie cutters, for sure. They are completely different from each other. Not only are their personalities different, but also their interests, tastes, and way of learning.
Last year, my goal was to observe my children as much as I could and take notes of how each child engages, absorbs, and processes things. I saw how different their natural curiosity is. God has made each of them unique, and knowing these differences can help you immensely in your homeschool.
My oldest child is a little engineer, always building, taking things apart to reconstruct, reading about inventions, and so into math! My middle child is all artistic and musical; she loves writing, drawing, coloring, singing, listening to music, playing the piano, dancing ballet, and reading poems. She is the creative child. And my youngest daughter is absolutely obsessed with the human body and all things science. She has been saying since she was 3 years old that she wants to be a doctor.
What about your children? Have you intentionally stopped to observe them and take notes of their natural curiosity, how they learn, what they are most interested in? What are their learning styles? Are they audiovisual learners? Hands-on learners?
I invite you today to become a student of your children. Watch them and learn. This has made a huge difference in how I teach my children, along with knowing their love language.
If you want your kids to be fully engaged while you're teaching them, start using their love language! It works miracles. Do you know your children's love languages? Knowing their learning style and their love language is a game changer.
3 – Choose the Right Curriculum for Your Family
Now that you know your students' learning styles you can start choosing the right curriculum for your family. One of the reasons so many homeschool moms buy curriculum that doesn't work for them is because they don't take into consideration their kids' individual learning styles. I am guilty of that, big time!
I would often go with what spoke to me instead of what spoke to them. This only caused me to waste money and make everyone in our home frustrated. One thing I've learned the hard way is that just because a curriculum works wonders for everybody else doesn't mean it will work for us.
Last year, I spent over $300 on a popular math curriculum for my kids that many homeschool moms were loving using with their children. My kids hated it! There was nothing I could do to engage them and make them like it.
After months of endless math meltdowns in our house (real tears and tantrums!), we found another math program that no one was talking about that my kids begged to do even on the weekends! I swear we will never change our math program! My kids absolutely love it and are thriving with really high grades.
But what is the formula for choosing the right curriculum for your family?
Before buying curricula, consider these things:
Your homeschool philosophy and approach
Your children's learning styles
Required planning and prep time – as a super busy mom I need an "open and teach" curriculum
Your family lifestyle. Are you a techie family? Bookworms? Outdoors lovers?
Money. What is your budget? Does the curriculum company have a return policy if the curriculum doesn't work for you? The one we use does, which is amazing!
You. Yes, you homeschool mom, you count. You are the one facilitating learning in your family and it is much easier to teach a curriculum that you feel natural doing. Not a hands-on Pinterest mom? Me neither. But I can read tons of books to my children, happily. When it comes to teaching, what comes most naturally to you?
4 – Create a Routine That Really Works
Note that I said routine and not schedule. Why? Routines come naturally and are much easier to follow. A routine instead of a schedule follows your family's natural rhythm; it is not forced but gently weaves your learning naturally into your daily life. I use these kids' weekly checklists to implement or reinforce routine in our house. This helps us to run our homeschool on autopilot as well.
In our home, we created a homeschool routine divided into three parts: Morning Time, Table Time, and Tea Time.
Morning Time Or Morning Basket (as some homeschoolers call it):
Our homeschool mornings begin with Bible reading, prayer, and character and habit training while we have breakfast together. This is a great way to start our day as a family, putting God first and helping our children develop a habit of reading the Bible and praying first thing in the morning. Character and habit training is so important and I've seen how huge of a difference it makes when we teach our children the habits of attention, obedience, perfect execution, etc. Our homeschool runs so much more smoothly now.
Table Time:
This is when we study Language Arts, Math, History, Geography, and Science. But I don't teach them all every day. Language Arts and Math are done daily but the rest of the subjects I use a loop schedule for. We take turns between History/Geography, Social Studies, and Science. Because we follow a Charlotte Mason philosophy of education, reading living books is a big part of our daily homeschool routine and a nice way to transition from Table Time to our lunch and quiet time.
Tea Time:
This is my kids' favorite time of the day. Tea Time happens after our long lunch break and quiet time. During Tea Time we regroup in the living room or dining room for snacks, tea, or hot cocoa. This is when we do poetry memorization, picture studies, we learn about composers, music, art, and even study Hebrew. Again, I can't teach them all of these every day so we use a loop schedule.
Once a week we go for nature walks as part of our tea time routine and have tea on our way back.
Keep in mind that routines should always be refreshed. Each season and each homeschool year may look very different than others. As your family changes, naturally the routines will change as well.
5 – Keep Your Homeschool Organized
Oh, the number of books and resources we collect as homeschoolers! It never ends! I have a homeschool organization group on Facebook where my readers constantly exchange ideas that help them stay organized opposed to just getting organized once.
Homeschool organization is not just for good looks. Homeschool organization is for practicality and sanity. It helps us save money and time. How? When I know where things are I don't buy duplicates and I don't waste time looking for things I need to use.
Everything has a place, and this is an important lesson for our children as well. They learn the habit of order, of maintaining things neatly stored and at hand when needed.
Having my homeschool space organized gives me peace. The atmosphere does change when things are in their proper place with no chaos around us.
I only keep in our homeschool space what I am currently using in our homeschool for the year. Everything else is organized in bookshelves in our living room and study. The workbooks my kids use daily are in chair pockets behind each one's chair. These chair pockets are my favorite organization resource and I bought them at the Dollar Store!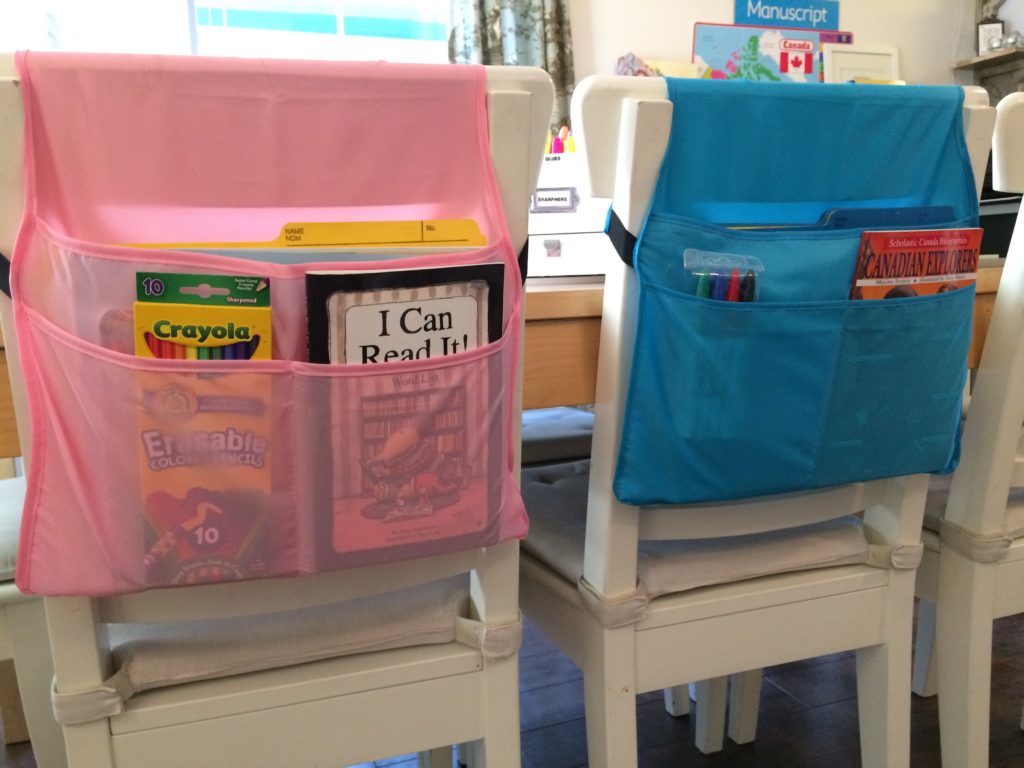 You don't need to spend money to organize your homeschool. Look for baskets, boxes, Mason jars, and plastic containers you already have and repurpose them. Keep it simple and practical.
Are you ready to have your best homeschool year?
I hope these five tips will encourage you and give you the direction you need to set yourself and your kids up for homeschool success. I have created a course called 5 Days to Your Best Homeschool Years. These tips are just a few of the many I teach there, along with printables and templates to make your homeschool journey a lot smoother, joyful, and fulfilled. Click here to learn more.
Ana is a blessed homeschool mom of 3, wife, pastor, health coach and blogger. She is also a mentor to new homeschool moms and new bloggers, a brand ambassador, Bible journaling addict, and a messenger of the Good News. Ana loves to encourage, inspire and empower moms to go from stressed to blessed through her e-courses: Grow Your Blog Partying in 30 Days and 5 Days to Your Best Homeschool Years, on her blog at TheyCallMeBlessed.org and on social media.