Your little boys and big boys and girls all love dinosaurs – so it's time to start finding the best dinosaur books ever and adding them to your library right? For our family, that means finding dinosaur books with a biblical understanding of creation or no reference to evolution or creation at all, so that book can be used in a way that complements our worldview.
Dinosaurs on the Move: Best Dinosaur Books Ever
As I was looking through old posts, I remembered this book. And I just realized that my twins have never gotten to play with these  — I'm ordering it for them right now!
** The big kids found this new book first, and managed to keep it a secret from the little ones for a full day before Anna and Caleb discovered that something was afoot. Then came the big discussion about who got which dinosaur. These adorable creatures are from Dinosaurs on the Move by Cathy Diez-Luckie. If you have dinosaur fans, I have to tell you – this is the best dinosaur book ever!
It took a long time, but in the end the girls each decided they only wanted one dinosaur and that left plenty for the boys to choose from and divvy up. Excitement was building…
Thirteen dinosaurs are presented in both a full color version and a color-your-own version, allowing for 26 dinosaurs in all. Each dinosaur has about thirteen moving parts from head to tail. Dinosaurs are cut out and assembled using brads or paper fasteners. We chose brads, which are smaller then paper fasteners and come in lots of cool colors. Brads and paper fasteners are actually the same thing, brads are just a smaller, prettier version of the paper fasteners you remember from grade school.
The brads we chose were 1/8 inch brads from the scrapbook section of our local craft store. Instructions suggest using a long-reach 1/8 hole punch, but our craft store did not have any in stock and wasn't sure when the new set would come in so I chose to use a different scrapbook supply already in my closet, which is basically a hand hole punch with a hammer. I used the 1/16 size hole and that ended up being perfect.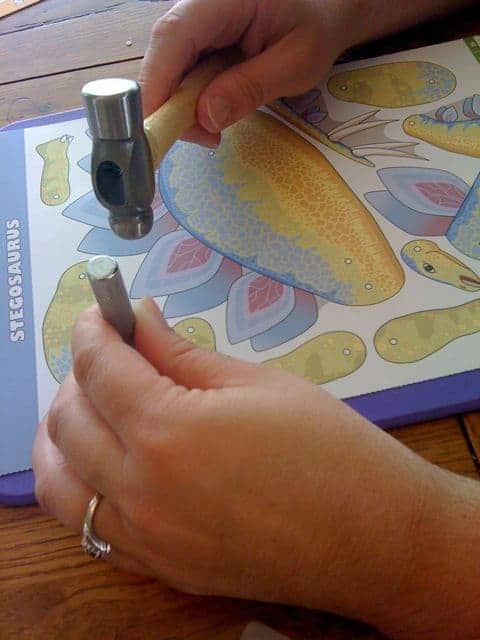 In our family, I chose to do the cutting and punching for the four and six-year-olds and let the nine and eleven-year-old manage their own cutting and assembly. It took me about 15 minutes to cut and assemble one dinosaur. After we saw one dinosaur go together and they all saw how cool they were, the older kids took over much of the cutting and punching for their siblings so that I was free to clean and watch.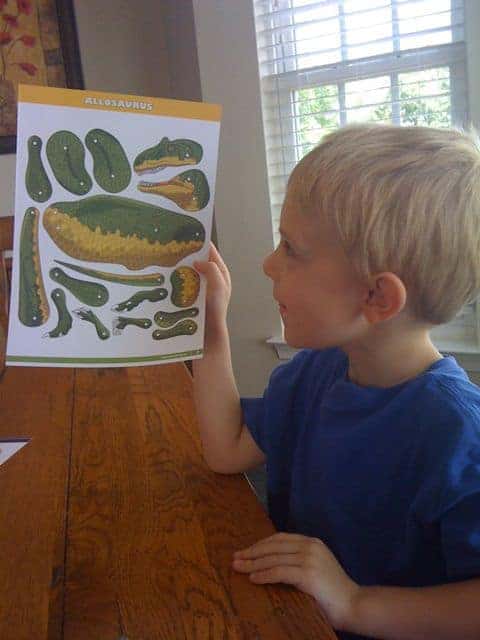 If you have children who like to color, cut, and play with any variety of paper creations your family is going to love this book. If your child is a dinosaur fanatic, your child is going to love this book. Since my children love dinosaurs and could spend an entire day at the table coloring and cutting out paper dolls complete with pets, houses, and furniture and then spend several more days playing with the end result — I was pretty sure Dinosaurs on the Move was going to be huge hit.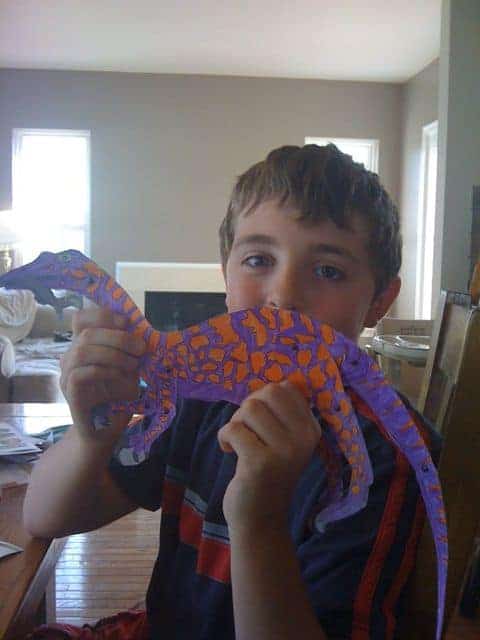 We were not disappointed. The artwork is beautiful, the instructions clear, and the assembly easy enough for any child adept at handling scissors and able to match pieces by letter. (Each hole is labeled with a letter and a position so that A front goes with A middle and A back and so on.)  The end result is as durable as any paper dinosaur can be, and easy to play with. I awoke this morning to find three dinosaurs staging an attack at the foot of my bed.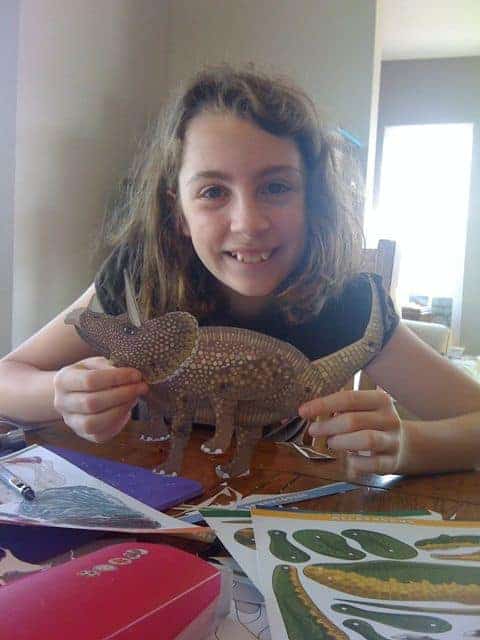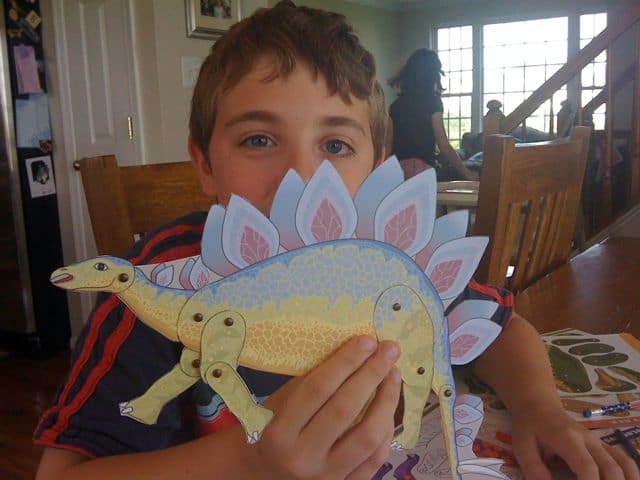 Dragons: Legends and Lore of Dinosaurs by Laura Welch and Bodie Hodge: Best Dinosaur Books Ever
I have to tell you this is a positively gorgeous dinosaur book your kids are going to love. I am including lots of pictures so that you can see for yourself. The book is like a gorgeous, advanced picture book with pull-out minibooks, lift the flaps, books within books, and beautiful illustrations. Gorgeous, really. Can you tell I loved Dragons: Legends and Lore of Dinosaurs? I have purchased four of these books since I first reviewed it on my blog! Every dinosaur lover should have this book. Every Christian family should have this book. I have gifted this book to at least one of my nephews. Seriously, you want this book.
In reading Dragons: Legend and Lore of Dinosaurs, I was absolutely amazed to discover that dragons are mentioned in the Bible no less then 22 times! Wow! I have read the Bible from cover to cover, and I didn't catch that! I mean, I knew they were in there, but I thought it was maybe two times. Even King David mentions dragons multiple times, including reference to the cave of dragons!
Dragons: Legends and Lore of Dinosaurs illustrates the connections between dragons in the Bible, dragons in legend all over the world, and the dinosaur fossils we have proof exist all over the world. The book is written from a creation science perspective and is very professional.
Written for the upper elementary or middle school student through adults, the book is best enjoyed as a family if you have younger children because the multiple inserts and lift the flap parts are easily torn.
Dinosaurs of the Bible: Best Dinosaur Books Ever
Take all the Bible verses which mention dragons and make them into copywork or handwriting practice for your children! Add AMAZING dragon illustrations from around the world, ready for your kids to color, and then add full size coloring pages and notebooking pages for each dinosaur and you have Dinosaurs of the Bible.
To use this book in our homeschool, I simply print out every page in the handwriting style we prefer. Then I let my boys pick which page they want to copy and color each day. They love having choices from so many amazing dragons, and some of the dragon images I almost left out of the book are their favorites!
You might also like this free dinosaur printable!