This is a sponsored post written by me on behalf of Schreiber Foods, Inc. All opinions are entirely my own.
I don't know about you, but I am always looking for the perfect snack for my kids. We homeschool, so we often say that they eat "second lunch" and "third lunch" like the hobbits do. Someone is always in my kitchen looking for something to grab on the run. And as much as I want them to make wise choices, I also don't want to have to leave whatever task I'm on to run in the kitchen and help every time someone needs a quick pick-me-up.
So what makes the perfect snack? These are my criteria.
A good afternoon snack for kids is NOT focused on sugar.
A good afternoon snack for kids actually has nutritional value.
A good afternoon snack provides energy to get the kids through until supper.
My kids need to actually like the snack, or they won't eat it.
This is not an easy task! I know that eating small snacks throughout the day is better for the metabolism than waiting long periods between meals. And I know for sure that my kids are going to barge into the kitchen at around four o'clock "starving" if they haven't already been in there a few times throughout the day. What I struggle with is how to keep a steady supply of responsible snack choices available that don't require me to be a short-order cook or bakery chef.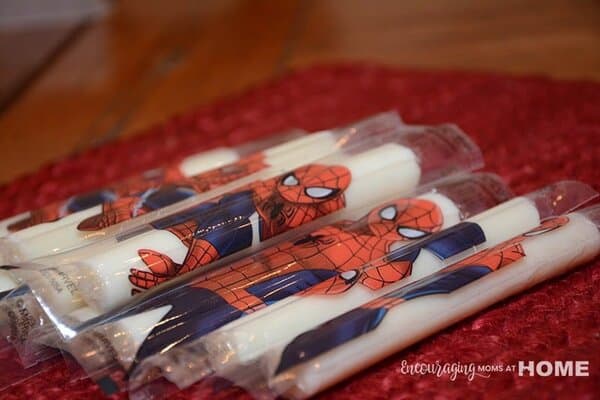 When I was asked to write about the new Marvel® Spider-Man String Cheese – I was thrilled to recommend it as a great snack for kids because it meets all of my personal criteria for choosing a great snack AND it's easy for me. I purchased my Marvel® Spider-Man String Cheese at my local Giant grocery store, and I'm so glad I did! Saying, "Have some cheese," is the extent of what I have to do at snack time. And actually, I don't have to say anything at all because the awesome packaging on the Marvel® Spider-Man String Cheese calls out to the kids from the snack drawer when they go looking. (By the way, that in and of itself is a #momwin!)
Cheese doesn't have any sugar.
Cheese is a good source of calcium (nutritional value).
Cheese is a good source of protein (a.k.a. energy and nutritional value).
My kids love cheese!
It's an exact match. Plus, the string cheese is individually wrapped so I don't have to worry about the cheese going bad when someone forgets to zip the bag. Not that such a thing has ever happened. Ahem. Individual wrapping also makes the Marvel® Spider-Man String Cheese super easy to throw in a lunch box and take along on one of our homeschool field trips or activities throughout the week.
So here are a few other fun ways you can use Marvel® Spider-Man String Cheese.
Your child can take all the little strings and put them on whole grain crackers. Kids love getting hands-on with their food. My kids love to pretend to be in cooking competitions. This cheese is super easy for kids to use in fun ways!
The strings can also be wrapped around grapes. (You might think my kids are weird unless you've actually tried this; it's pretty good.)
The strings are perfect for food art like Bento boxes.
It's the perfect addition to the classic snack supper.
For extra cheesy fun, be sure and check out Cheese Adventures — with activities for kids and tips for moms. AND you can get a $1 off coupon on any Marvel® String Cheese product if you head over there before 1/15/2017. This snack comes with its own activity guide!