Earlier this month I had the privilege of reading a new book called Delightful Planning: A Unit Study Planner for Every Homeschool. I wasn't expecting that it would impact my homeschool. I talk about helping students learn by giving them what they are excited about all the time on Homeschool Encouragement. It's the reason behind our LEGO Printables, Minecraft Printables, and so much of what we do here. So I thought I already had this covered.
Curiously, at about the same time as I was reading Delightful Planning, my son Caleb entered what I will call his NINJA phase and stumbled upon his sister's story board. All of a sudden he wanted his own story board. And considering the fact that getting this child to do school work is like pulling teeth — I was ready to do anything that might help him love learning. With all my talk, I should have figured this out faster than I did.
Because of the encouragement I found in Delightful Planning,  I was able forget our lesson plans and quickly provide him with the material he needed to study ninjas. Using the chapter "Five Steps to Planning A Unit Study" and the planning pages in the back made it easy for me to pull something together that met our learning goals while at the same time feeding his passion. Because, after all, if he was going to make a story board about ninjas he was going to need to know a bit about them and we might as well capitalize on all that learning. And he's loving it!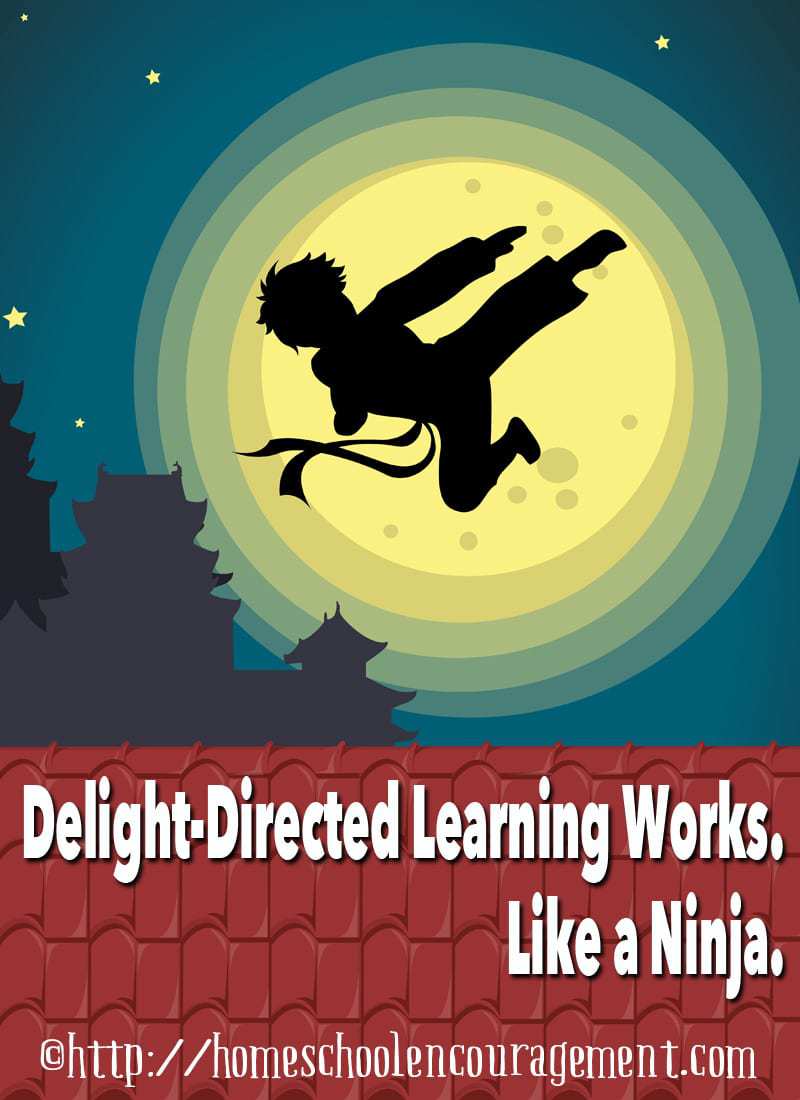 This is the ninja Caleb drew using a light box to trace the ninjas we found on the internet. After drawing the ninja, he used Photoshop to enhance and color the ninja. This is the end result.
This is a picture of Caleb's story board. He has included images of ninjas and weapons which we found on the internet. Each of the ninjas pictured is a character in his story. The beginning of his story is typed out and placed on the storyboard. It's a work in progress!
The fun thing is, Caleb didn't even realize he was "doing school" until I let it slip. He was pursuing his own interests, but also reading cheerfully, copying sentences with intensity, learning art skills, telling a story, working with his siblings, and more. I was teaching like a ninja. Because that's how delight-directed learning works.
When we left for Grandma's on Friday for vacation, Caleb actually asked me if he could bring his storyboard with him so that he could keep working on it. It's a huge improvement over our school days of the week before. It's an answer to prayer.
So why am I telling you this? It could change the way you homeschool.
And that's a big deal.