Making homemade cleaners is one of my favorite ways to use essential oils in our home. Not only can I combine essential oils with gentle, all-natural ingredients to keep the act of cleaning more safe for my family, we also get to enjoy the aromatherapy benefits of the oils as we use them to clean our home.
This beautiful DIY Soft Scrub smells amazing and works very well on sinks, tile grout, shower and tub surrounds, counters, refrigerator shelves, toilet rings, and even pots and pans that need a good scrub.
I'm very happy I've added this homemade scrubbing cleaner to my growing arsenal of homemade household cleaners!
Ingredients for Rosemary-Mint Homemade Soft Scrub
2 cups baking soda
¼ cup Castile soap
10 drops peppermint essential oil
5 drops rosemary essential oil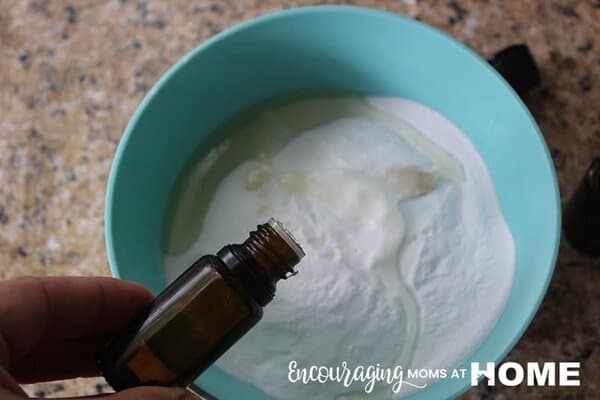 Directions for Rosemary Mint Homemade Soft Scrub
Grab a large bowl and stir all ingredients together until they are evenly mixed; a whisk is great tool to use to incorporate all ingredients.
Transfer the mixture to a pretty jar to store near your sink, I love these little Ball jars for everything from cleaning products to snacks in the kitchen.
To use: Sprinkle around the sink and use a sponge or brush to scrub gently. Rinse all the grit away with water. For best results on stainless steel, dry with towel afterwards to leave it spot free!
If you have a surface with discoloration from dye, berries, wine, or other stains add a bit of hydrogen peroxide to the mixture once you sprinkle it. Allow it to sit for 5 minutes, then scrub gently and rinse away.