My kids like pizza. I like the Instant Pot, and I do not like the cost of pizza as often as they would eat it. We needed a compromise to this dilemna, and this Instant Pot Pizza in a Bowl is the perfect solution. If your kids like pizza, chances are pretty good they are going to like this dish! I can't wait for you to try it!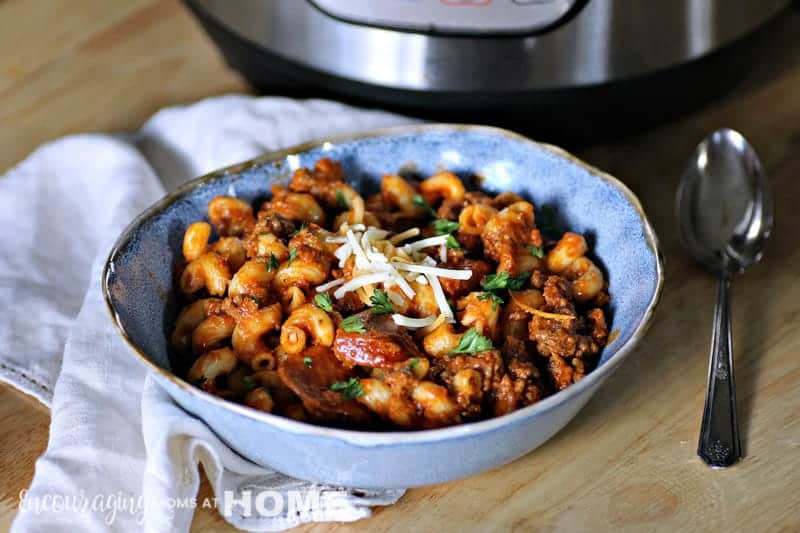 My kids are in fact, obsessed with pizza so much that one of my sons saved a pizza box to wrap a Christmas gift, and gifted his brother with a "pizza slice" pillow because he had told his brother he was giving him pizza for six months. We've got a pizza thing going on! We even make pizza paninis. That's why making Instant Pot Pizza in a Bowl is a no brainer. What's not to love?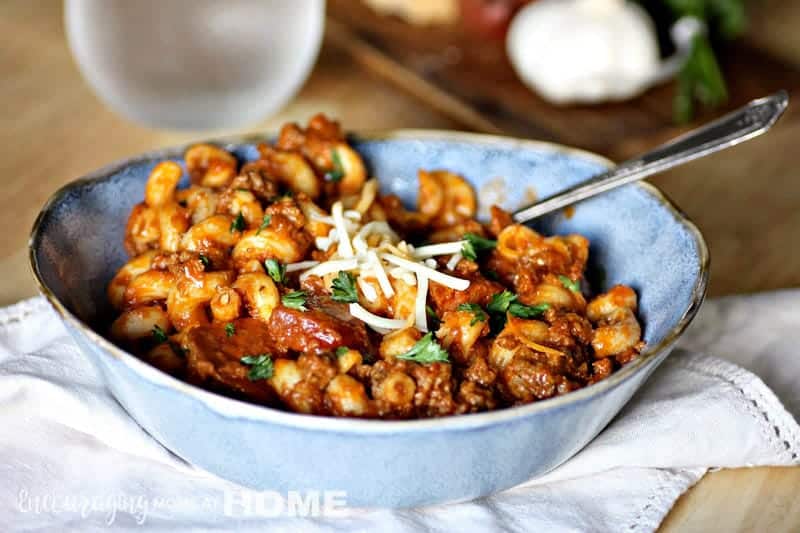 Basically, the Instant Pot Pizza in a Bowl is like putting all the awesome ingredients of a good pizza into a yummy pasta dish. The key is to follow the order in the instructions below as you add ingredients. It seems weird that ingredients are grouped together in sequential steps but this works. You will like the end result!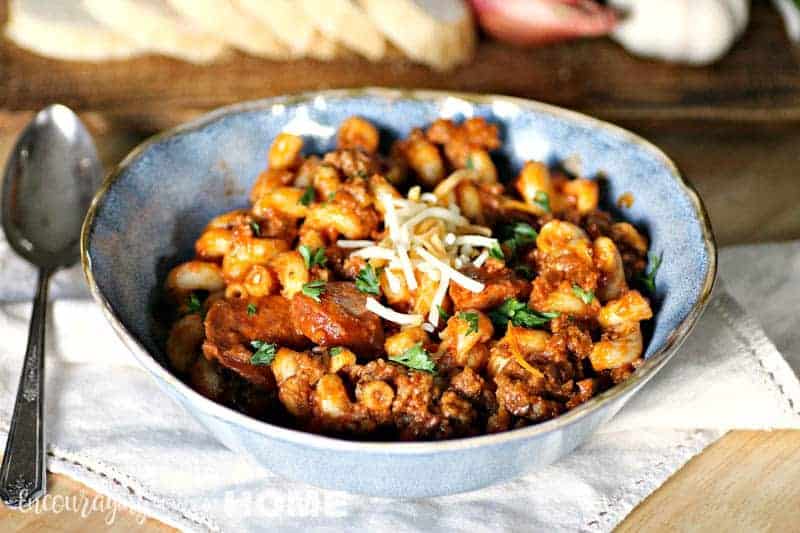 The key to getting this dish to work without a hitch is to make sure nothing is stuck to the bottom of the pot after step six. Once you add the liquids, make sure you stir and scrape the bottom to get any bits of onion or meat still stuck! How many other moms are looking for another kid-friendly Instant Pot dish? Well this is it! Nothing is more kid-friendly than Instant Pot pizza in a bowl. Its got the wow factor, the pasta factor, and its so easy and tasty. I'm pretty sure its going to be a family favorite.
If you want kid-friendly – you are also going to love my Instant Pot Chicken Tetrazini Recipe!
Print
Instant Pot Pizza in a Bowl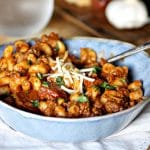 Ingredients
1 tablespoon olive oil
1 tablespoon butter
1 tablespoon minced garlic
1 pound of lean ground beef
1 pound rope sausage
1 cup tomato sauce
1 jar pizza sauce
1 tablespoon Italian seasoning

 

1 cup beef broth
1 cup water
8 oz uncooked pasta
25-30 slices of small pepperoni
2 cups shredded cheddar cheese
Salt and pepper to taste

 
Instructions
Set your Instant Pot to sauté.
Add the olive oil, garlic and onion and cook for 2 minutes. Stir occasionally.

 

Add your ground beef and sausage and cook about 4-5 minutes or until ground beef is no longer pink.

 

Add tomato and pizza sauces and Italian seasoning.

 

Add beef broth and water.
Add pasta. Stir to make sure pasta is covered with the liquid.

 

Layer pepperoni to cover the mixture.
Put lid on Instant Pot and set to high pressure for 8 minutes.
When complete, release pressure and wait for steam to completely stop before opening lid.
Stir in cheese.
Allow to sit 1 minute.
Notes
Serve with fresh garlic bread.