Let me ask you a few questions.  When you are tempted to sin (and we all are), do you stop what you are doing, pull out your Bible or smartphone and look up a Scripture to combat that temptation?  I would bet that most of us do not.  Jesus, when he was tempted, responded to Satan each time with a Scripture verse quoted from memory.  (Read Luke 4:1-13).  If you want to have a strong stand against temptation, you need to memorize Scripture.  Equally true, if you want your children to stand strong in the face of temptation, your children need to memorize God's Word.  This is why I think Scripture memory is essential to the victorious Christian life.

How Important is Scripture Memory in your family?
Even though I've placed a very high value on Scripture memory both in word and deed in our home for a very long time, I am still certain that we could and should be doing more.  That's the premise of my blog series titled Five Days of Scripture Memory Techniques.  I am hoping to encourage you, inspire you and empower you to start making Scripture memory a higher priority in your home.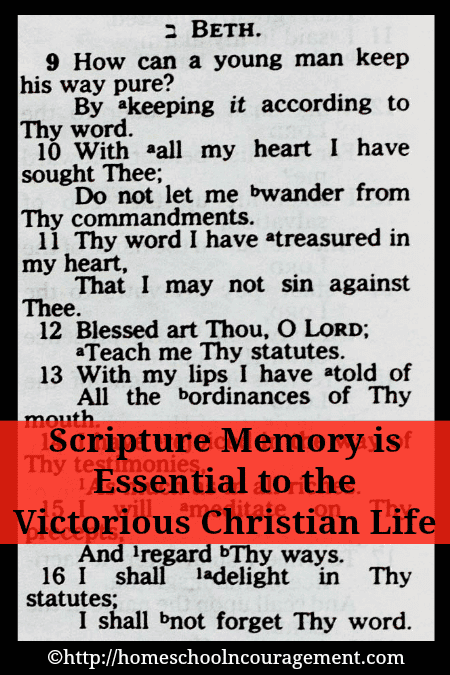 If you answered the question in bold with a resounding "very important," let's examine that for a minute.  How many hours of your day or week do you spend memorizing Scripture with your children?  How many hours of your day or week do you spend doing math facts with your children, or reading books out loud?  How many hours a day you spend using facebook or surfing the internet? When we truly value something, that value is reflected by our time.  If you want to make Scripture Memory important in your family and your answer to the first question in this paragraph is five minutes a day or five minutes a week, you need to start making some changes.  This is where the rubber hits the road.
How Many Hours of Your Day or Week do you spend on Scripture Memory?
I think this might be the most important blog series I have ever written.  In our home, we start each day with Scripture Memory using the AWANA curriculum.  We have been faithful to attend AWANA for years, and we see the results when we start discussing sermons and my children can readily quote verses on many different subjects.  We also have purchased and listen to several different cds of music taken straight from the Bible.  I think we can do more.  Especially in the upper grades, I have found AWANA to be a very light load.  This year, my seventh and ninth graders will be using Phillippians in 28 Weeks by Stacy Farrell to memorize an entire book of the Bible in addition to learning AWANA verses.  My middle children will be using Scripture-based copy work called Write Through the Bible, and my youngest will be listening to more Scripture Memory cds since we have put them away for a while.  I am looking forward to making this an even greater focus in our home in the 2013-2014 school year.
What are your plans for Scripture Memory in the coming school year?