The inspiration for this recipe came from the last time I went for a real pedicure. I paid for the whole nine yards and part of that experience was a sugar scrub massage on my feet and legs. My skin was so soft for days!
This reminds me of the old Mary Kay® Silken Hands party – one of those was most definitely an exfoliating scrub. And the steps are so relaxing! Soak, exfoliate, cleanse, lotion. We've got all the recipes you need going up on our DIY Spa Day for Moms page soon!
Ingredients for Lavender Mandarin Sugar Scrub Recipe
10 Drops of Lavender Hungary Essential Oil (so nice! – my favorite lavender ever.)
15 Drops of Red Mandarin Essential Oil (a candy-scented citrus I love.)
5-7 Drops of Peppermint Essential Oil
1 Cup Coarse Demerara Sugar
3-4 Tablespoons Aloe Vera Gel (pure, non-alcoholic variety. This is my favorite.)
3-4 Tablespoons Fractionated Coconut Oil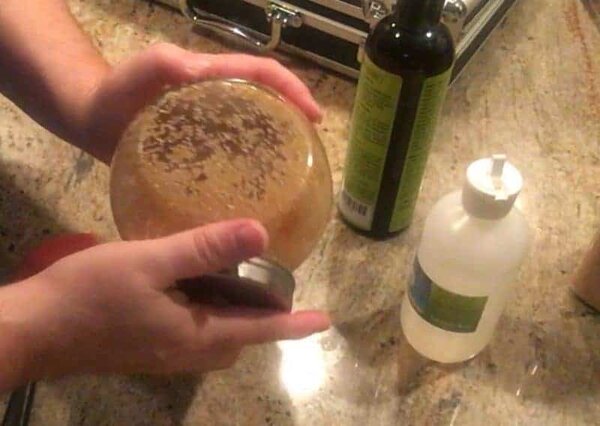 Directions for Lavender Mandarin Sugar Scrub Recipe
Place all the ingredients in a jar and screw on lid. Shake thoroughly. Add more aloe and FCO as needed in equal parts. Stir with spatula to thoroughly combine those two oils and then shake some more. Store in an air tight container. Mine came from the Dollar Store.
*Test this recipe on the back of your hand or bottom of your foot first to make sure it is not going to be irritating for you. Apply carefully. Not intended for use on the face.
*All essential oils should be kept away from small children and stored safely.
This sugar scrub can be used for exfoliating massage on both the hands and the feet as part of a spa experience and should be followed up with rinse and lotion for maximum effect.
A Giveaway – I am so thrilled that Rocky Mountain Oils is offering a giveaway for the Concentration Kit. This kit has a great set of oils to help you have more focused days!
Rules of the giveaway: Refer a friend! For each friend that enters the giveaway through your unique URL, you will receive +1 entry into the giveaway. Each of you can refer up to 10 people for each giveaway so strongly encourage your friends to enter! You must use a valid email address to enter this giveaway. Email is the only way the winner will be notified, so using an email you never check is pointless. The winner will have 48 hours to respond before the prize is forfeited and a new winner is chosen. Entrants will be subscribed to Get Encouragement Delivered (our newsletter).You are free to unsubscribe at any time, but we hope you will stick around long enough for us to bless your socks off! You must be 18 years old or older to win and live within the United States. This giveaway will end on June 16th.