Today we are going to talk about how to use Minecraft® to teach your kids about the biomes in real life. This is a perfect lesson for a rainy or snowy day, when going outside isn't really in the plan. Here is a general list to guide you through a variety of the biomes you will find in Minecraft.
Swamp: home of the cyan flower and clay.
Jungle: tallest trees ever!
Oak Forest: is that a wolf I hear?
Birch Forest: white wood everywhere!
Dark Oak Forest: that mushroom is taller than I am!
Spruce Forest: sometimes has snow.
Desert: don't touch the cactus!
Savanna: Acacia trees are my favorite trees ever.
Mountains: did I mention I don't like heights?
Icicle forest: ice, ice, and more ice!
Mesa: cool colored clay everywhere!
Mushroom: is that cow red?!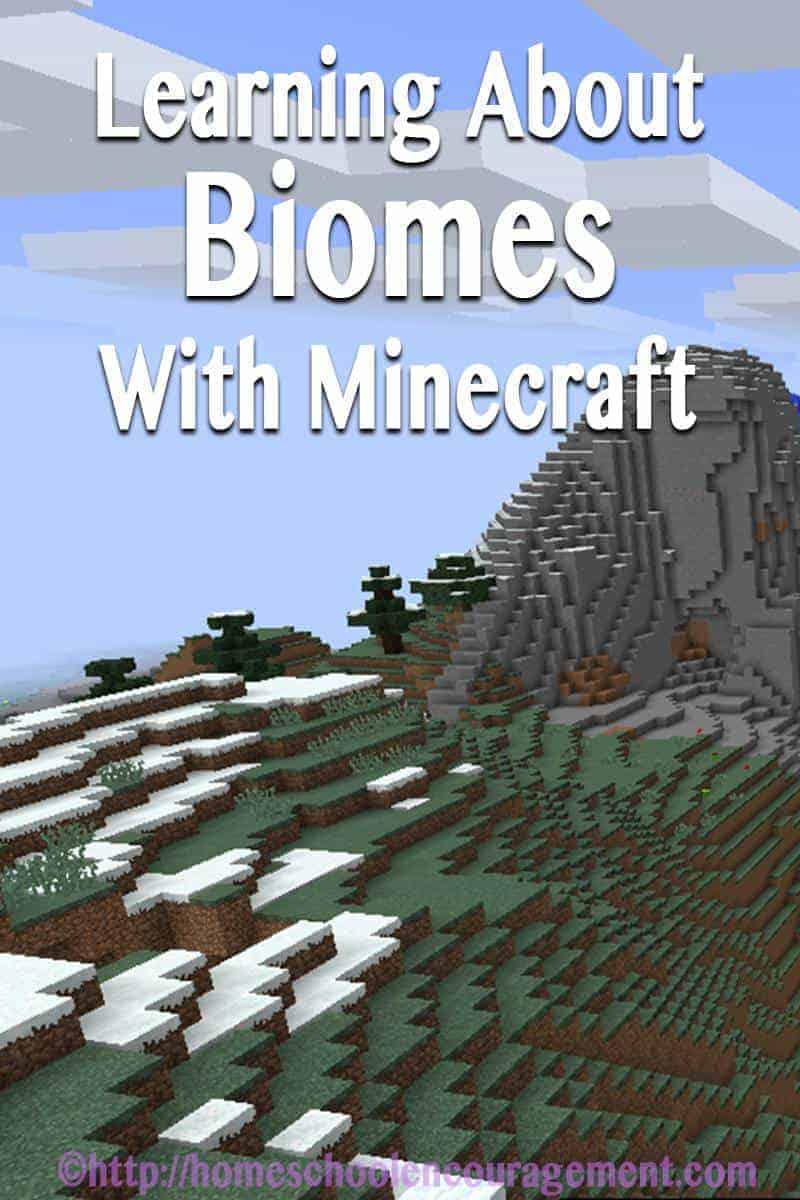 Here are a few Junior Ranger style activities you can do for each biome you discover during your crafting adventures.
1. Do a scavenger hunt hike. Make a list of things you might see on your hike; give each child a list and see how many you can find. Maybe even add some things you know you won't find. Then, talk to them about it. "Why didn't we see an ocelot in the oak forest?" The answer should be, "Because ocelots live in jungles!"
2. Do a study on the wild life in a certain biome. Have your kids locate and name several animal types, then talk about why they live in that biome in both Minecraft and real life. Compare the differences between the game and real life and find some similarities.
3. Study the plant life. Why does a certain plant only grow in that biome? Take it on a similar spin to #2, and maybe even locate that plant in real life!
4. Balance. Talk about the concept of renewable resources and taking care of our surroundings. What necessary supplies can you find in each Minecraft biome? What benefits does each biome have for those living there?
Activities to Learn about Biomes
Make Biomes in a Bottle from ScienceC
Dunecraft The Ultimate Habitat Science Kit
Easy Make & Learn Projects: Animal Habitats: Reproducible Mini-Books and 3-D Manipulatives That Teach About Oceans, Rain Forests, Polar Regions, and 12 Other Important Habitats
Melissa & Doug Vehicles and Habitats Reusable Bundle Sticker Pad Melissa & Doug
Books to Learn about Biomes
Janice VanCleave's Science Around the World: Activities on Biomes from Pole to Pole
AMAZING BIOME PROJECTS: YOU CAN BUILD YOURSELF (Build It Yourself)
What Is a Biome? (Science of Living Things)
Explore the Desert (Explore the Biomes)
A Walk in the Deciduous Forest (Biomes of North America) 
Rebecca L. Johnson
The ABCs of Habitats (ABCs of the Natural World) 
Bobbie Kalman
Want more Minecraft ideas for your homeschool? Check out our 31 Day series!
Want even more ideas for learning with Minecraft? Follow our Pinterest board.
Follow Homeschool Encouragement's board Learning with Minecraft on Pinterest.