Today we are going to talk about one of my favorite things to do: mixing colors. I remember experimenting by mixing different paint colors to see what cool color I could create when I was younger!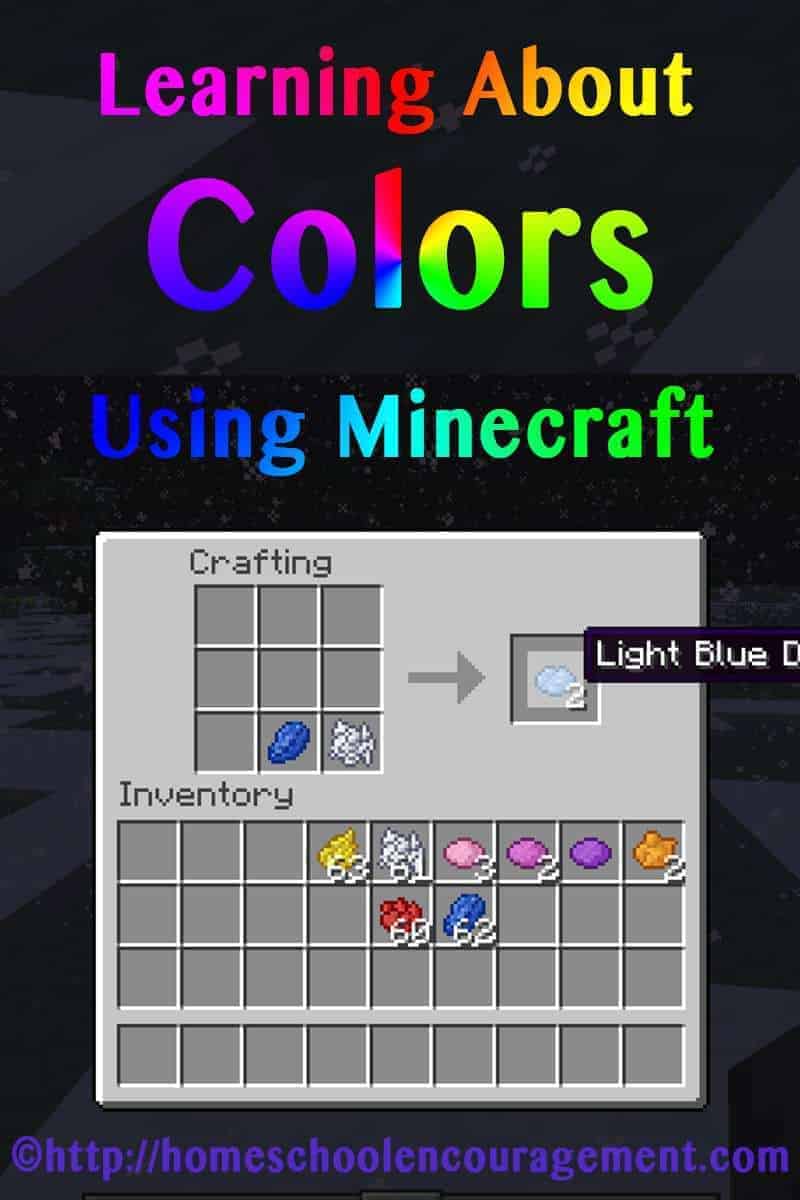 Mixing Colors in Minecraft
Though there are some limitations in Minecraft®, the basic concept is there. Whether you mix colors in survival or creative, you will need the three main colors of red, yellow and blue. Begin your crafting adventure by collecting these dyes.
Red dye is found in many flowers.
Blue dye is found in the form of Lapis Lazuli (found in caves).
Yellow dye is found in flowers.
Most of the other colors can be made with the proper combinations just like in real life. However, due to how they are made in Minecraft – green, grey, black, brown, and cyan (teal-ish), cannot be made using the above colors. In addition, if you are planning on making pink or light blue (and other colors requiring white) you will need either the light grey dye or white dye.
For your younger kids, I would suggest doing this in creative so that you have endless supplies. For the older ones, I would consider mixing your colors in survival mode, which will require you to search for dyes in your surroundings and adds another level to the lesson.
Finding Dyes in Minecraft
Here are some hints to get you started with finding additional dyes for mixing colors.
Green Dye is made by cooking cactus and lime green is made by adding white to green.
Cyan is found in a flower only found in swamps.
Pink is made by adding white to red or finding a certain flower.
Orange is found by adding yellow and red or an orange flower.
White is found by defeating a certain white hostile mob.
Brown is found in the form of cocoa beans, only found in the jungle.
Black is found in the form of Squid Ink only found in a squid in the water.
Your children will love the adventure of finding even more color possibilities on their own. I know I did. Once you have dyes and you've mixed a variety of colors in Minecraft, you can have fun dyeing wool, banners, carpet, leather armor, glass, and even fireworks.
Learning about Colors with Extension Activities
Playdough Color Mixing Activity from Buggy and Buddy
Explore Color Mixing with Dip-Dyed Craft Sticks from Babble Dabble Do
Make a Rainbow Jar from Playdough to Plato
Light and Color Lab from Stem Mom
Learning about Colors with Books
Mix It Up! By Herve Tullet
The Mixed-Up Chameleon by Eric Carle
Mouse Paint by Ellen Stoll Walsh
Kandu and the Magic Meadow: A color mixing story by Marilee Donivan
Light and Color by Lawrence F Lowery
(More Advanced) Color Mixing Bible: All You'll Ever Need to Know About Mixing Pigments in Oil, Acrylic, Watercolor, Gouache, Soft Pastel, Pencil, and Ink by Ian Sidaway
Want more Minecraft ideas for your homeschool? Check out our 31 Day series!
Want even more ideas for learning with Minecraft? Follow our Pinterest board.
Follow Homeschool Encouragement's board Learning with Minecraft on Pinterest.