A few weeks ago I had the pleasure of attending the 2:1 Conference with some of my favorite people in the world. We found this restaurant near the conference that was absolutely fabulous – Stone Cove KitBar its called. And I tried Cheese Grits. Oh.my.goodness. Where have you been all my life? Then, because I liked the cheese grits so much my friend Marcy said I should try the Shrimp and Grits. And I do like shrimp. So I did. And now there is no going back. I crave this dish. Seriously crave.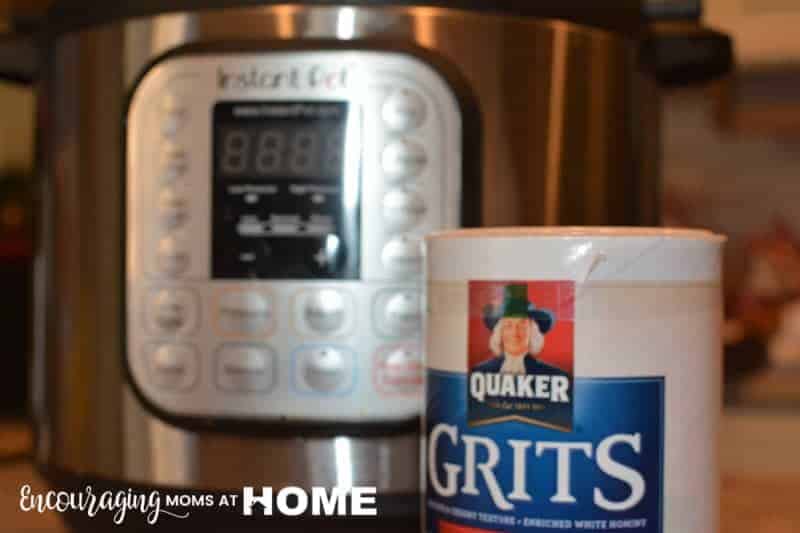 I'm also in love with my Instant Pot, so it seemed like a very natural thing to try and marry my love for all things IP with my newfound love for Shrimp and Grits. So today, a Low Country Shrimp and Grits in the Instant Pot recipe was born. I'm sure I will tweak this recipe a bit, but it was so good just like this. I'm looking forward to the next time I make this dish and I literally just ate it a few minutes ago. Sigh.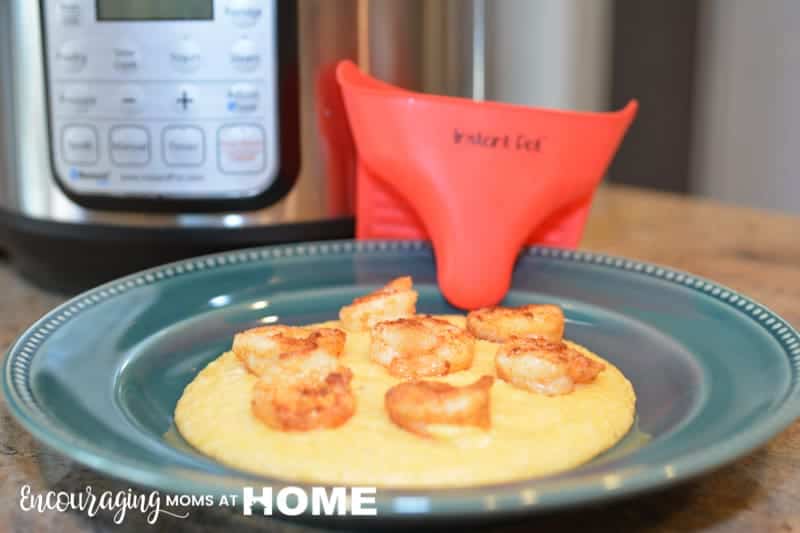 In this version of Shrimp and Grits in the Instant Pot you will notice that it is a combination of cheese grits and shrimp. I was concerned at first that this was not traditional but my friend assured me that it is perfectly normal to serve cheese grits with shrimp in this way! I'm glad, because it is so good. Also, the good news is — it only takes about fifteen minutes to cook Shrimp and Grits in the IP!  Add ten minutes for the pot to come up to pressure when you are planning.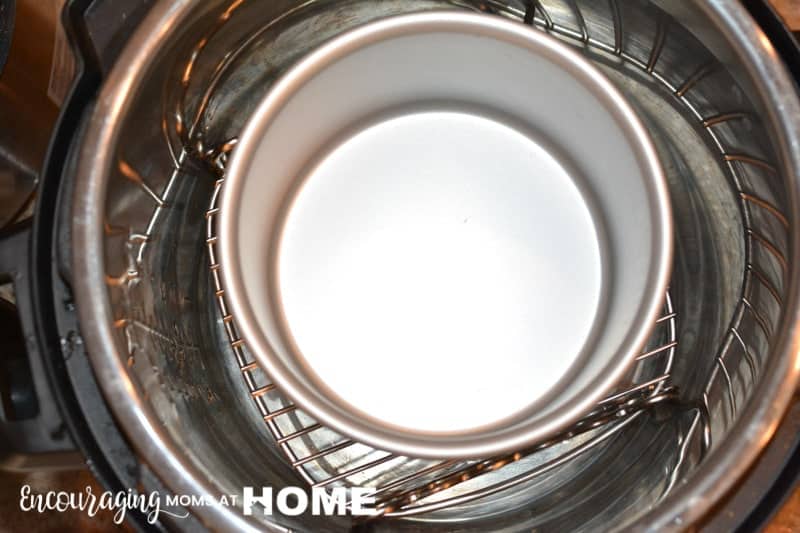 So when you make grits in the Instant Pot you need to use the pot-in-pot method. If your in Facebook groups for the Instant Pot, we often call that PIP. Or the PIP method. That means you put the normal insert into the Instant Pot, add water, and place a trivet in the bottom. Your IP came with a trivet.  Then you set another, smaller pot on top of the trivet. I use this Fat Daddio 6″ Pan, with 4 inch sides and can cook a double recipe of the grits with no problem.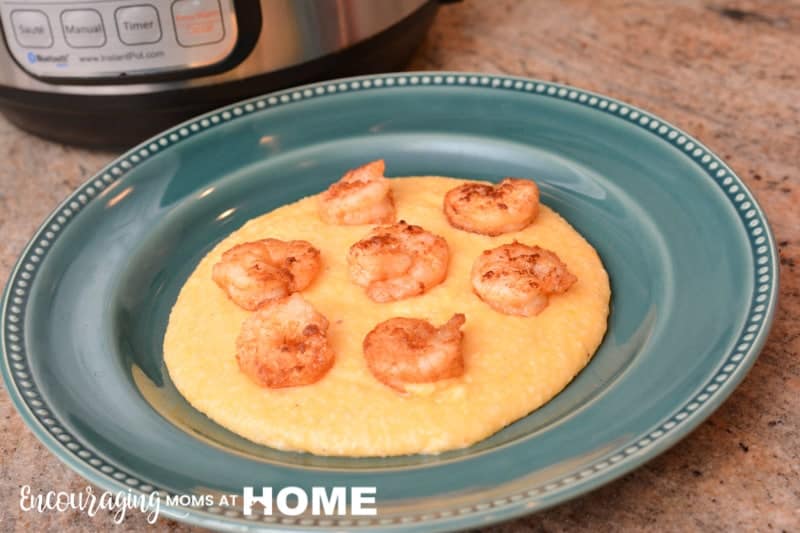 Since only my daughter and I will eat them, the recipe below will feed two people ten shrimp each. But you can definitely double this Instant Pot Shrimp and Grits recipe with no problems! I don't think you will even need to increase the time, but at most increase the time by about 5 minutes for a double recipe. I'll try it and update this post soon.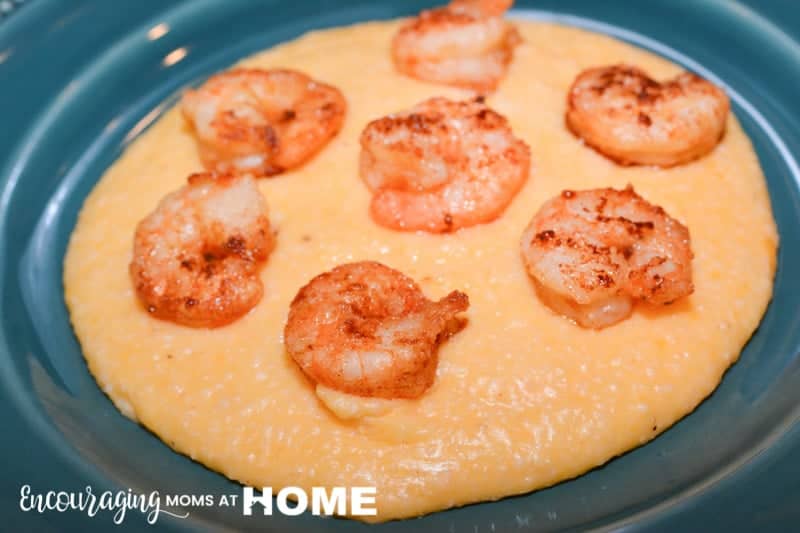 Also – I burned the butter the first time because I started my shrimp ten minutes out instead of five. Don't be like me. I'm gonna have to make Instant Pot Shrimp and Grits at least six more times this week just to get good pictures. Lunch every day! Yay me!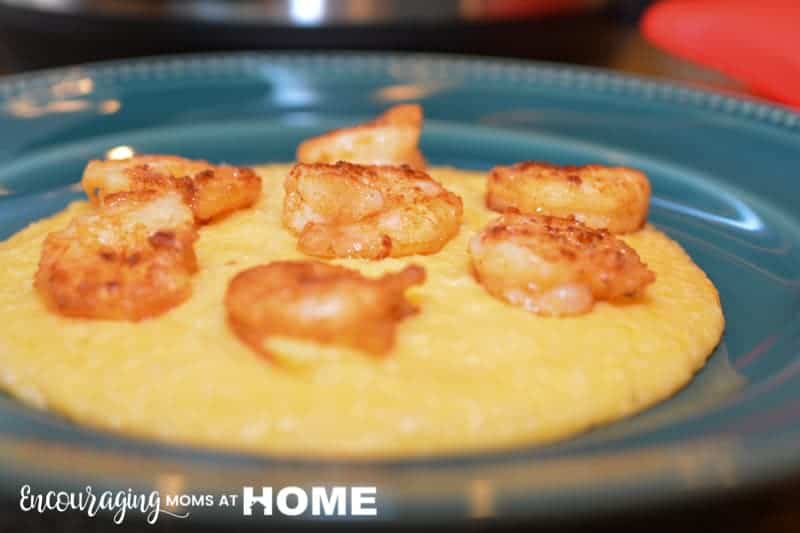 Print
Low Country Shrimp and Grits for the Instant Pot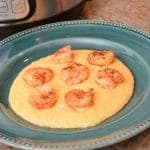 Author:
Prep Time:

5 Minutes

Cook Time:

10 Minutes

Total Time:

15 minutes

Yield:

2 People
Ingredients
Cheese Grits in the Instant Pot
2 Cups Water
1/2 Cup Grits (Old Fashioned or Stone Ground — Both work.)
1 Teaspoon Salt
4 Ounces Extra Sharp Cheddar, grated
2 Tablespoons Parmesan (Grated)
2 Drops Tabasco Sauce (Or sub 1 dash ancho chili powder or cayenne instead.)
1 1/2 Tablespoons Butter,
2 Tablespoons Heavy Whipping Cream
Pan-Seared Shrimp in Butter
20 Shrimp (Deviened and cleaned)
3 Tablespoons Butter,
1-2 Teaspoon Coarse Black Pepper
1-2 Teaspoon Coarse Kosher Salt
2 Drops Tabasco Sauce (Or sub 1 dash ancho chili powder or cayenne instead.)
Instructions
Add 1/2 cup water to the bottom of the Instant Pot insert.
Set the Instant Pot on sauté.
Set the trivet down in the bottom of the Instant Pot insert.
Use the pot in pot method to cook the grits. Find a small mixing bowl or cake pan or even a small glass dish that will fit into your IP on top of the trivet.
Add 1/2 Cup of Grits with 2 Cups of Water and salt into the small bowl. Stir.
Turn off the sauté function and switch the IP to manual mode. Set it for ten minutes.
Once the IP has started counting down and gets down to about five minutes, place butter in the skillet and preheat until just starting to brown.
Toss your shrimp in the spice mixture and tabasco sauce.
Sautee your shrimp.
When your instant pot finishes the pressure cycle, do a quick release of the pressure by immediately turning the valve.
To the grits, add the cheeses, butter, heavy cream, tabasco sauce or ancho chili powder, and stir until well blended.
Top with hot shrimp in their butter, and serve!
Notes
This recipe can be doubled!