This year for science, my high school students (a sophomore and a senior) are using Apologia's Exploring Creation with Physics for high school. That's our homeschool high school science pick. It's a fun year for them to study together since the experiments are almost all fun physics experiments! Plus, I think they secretly enjoy having random conversations about principles of physics that directly relate to our actual circumstance of the moment but about which I know nothing. It's like they have code words sometimes. (I did not take Physics in high school myself.)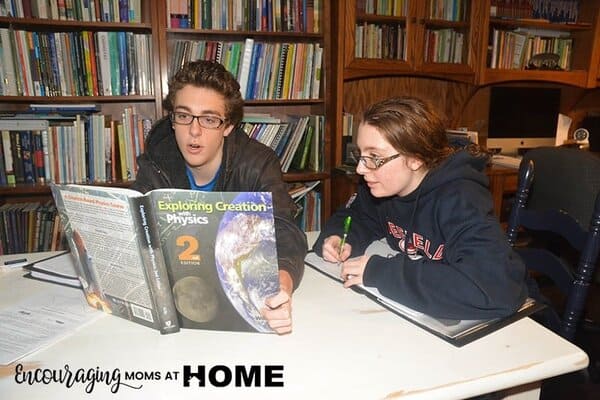 I have to tell you right up front that my husband does nearly all of the high school homeschooling in our house right now. He teaches Algebra 2, gives them assignment sheets in every subject, does all the grading, and definitely is the only one helping explain things in Physics. The only thing I do is grade the American Lit essays.
That being said, he chooses Apologia for science year after year. My oldest daughter has studied Exploring Creation with Biology, Exploring Creation with Marine Biology, and Exploring Creation with Chemistry.
My son took Exploring Creation with Chemistry with her his freshman year and has now jumped directly into Physics with his sister for his sophomore year. Next year he will move on to Advanced Chemistry and maybe his senior year he will go back and take Biology or something. My point is – my PhD husband (in a science field) chooses science curriculum from Apologia Educational Ministries every single year. That's high praise.
This is how Exploring Creation with Physics works. The kids read the chapter. They answer the questions and study definitions. They complete the experiments, often involving Nerf guns, rubber bands, boards, and other fun materials from around the house, and fill out lab sheets. (Just for the record, sometimes they do have to come ask me to buy something for an experiment, but not very often.)
In what other class do you get to use Nerf guns for the lab work?!
They discuss anything they do not understand with each other.
If they are struggling with any of the concepts or math (there is math in Physics, apparently), my husband goes over it with them and helps them figure out what they don't quite get. They take the exam. My husband grades the exam and they move onto the next chapter. It takes a full year to finish the 15 chapters in an Apologia high school science text, with all the labs. They end up with 1 science credit and .5 lab credit.
We have the main text, a teacher's guide, and the DVDs. We also have the audio version of the text, which in years past my children have used extensively. I think this year they are just reading it to themselves.
Here are some of the reasons we love Apologia Educational Ministries and are using Exploring Creation with Physics as our high school science text this year. 1) The text is set up so that you know exactly what to do and when. There is a weekly schedule, questions, exams, experiments, and it's all laid out for you. 2) Everything is taught from a Christian worldview but does not sacrifice in the heft of the text. This is extremely important to us — that our kids get a really solid education but from a Christian perspective. 3) The text is generally engaging and the experiments are almost always fun and interesting. The kids do not get bored.
I definitely recommend Exploring Creation with Physics from Apologia Educational Ministries.