Have you heard about hand pies? To me, it kind of seems like a real life, wholesome substitute for pop-tarts. Make up a batch of hand pies the night before, and then stick one in every person's hand as they leave for work and school the next morning. See? Hand pies. Tasty, quick, easy, and filling for breakfast.
Now, these Pumpkin Spice Hand Pies. Mmmm. I mean – its pumpkin spice season right? What could be more festive and more perfect than to celebrate with an amazing breakfast your entire family can take on the go. Also, just in case you were wondering, these pumpkin hand pies make an excellent dessert as well, already portioned just right. And they are a little less messy than the Pumpkin Spice Latte Bread we love so much, so that's hand pie another bonus.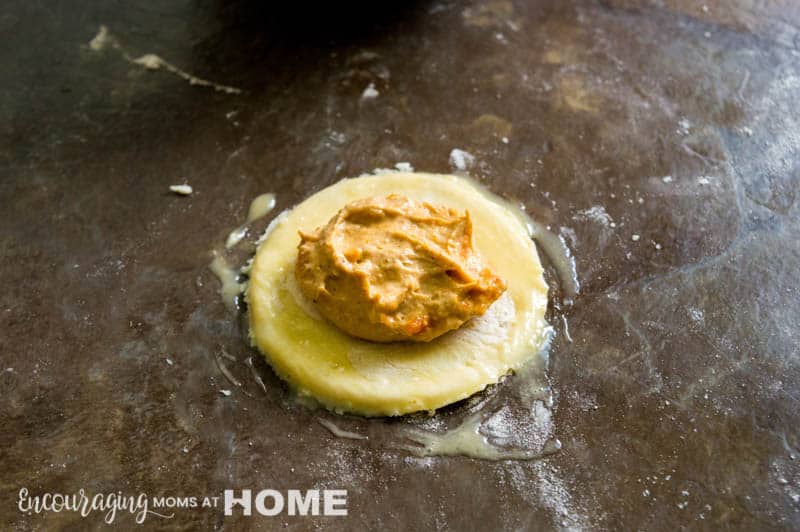 Our Pumpkin Spice Hand Pies are super easy to make because we use refrigerated puff pastry dough — and I always find that the dough is the hardest part of any pie, don't you? So now that we've got that out of the way, all you have to do is mix up the filling, drop a little onto the circles you cut into the dough, add another circle of dough on top and pinch the edges together. Easy peasy!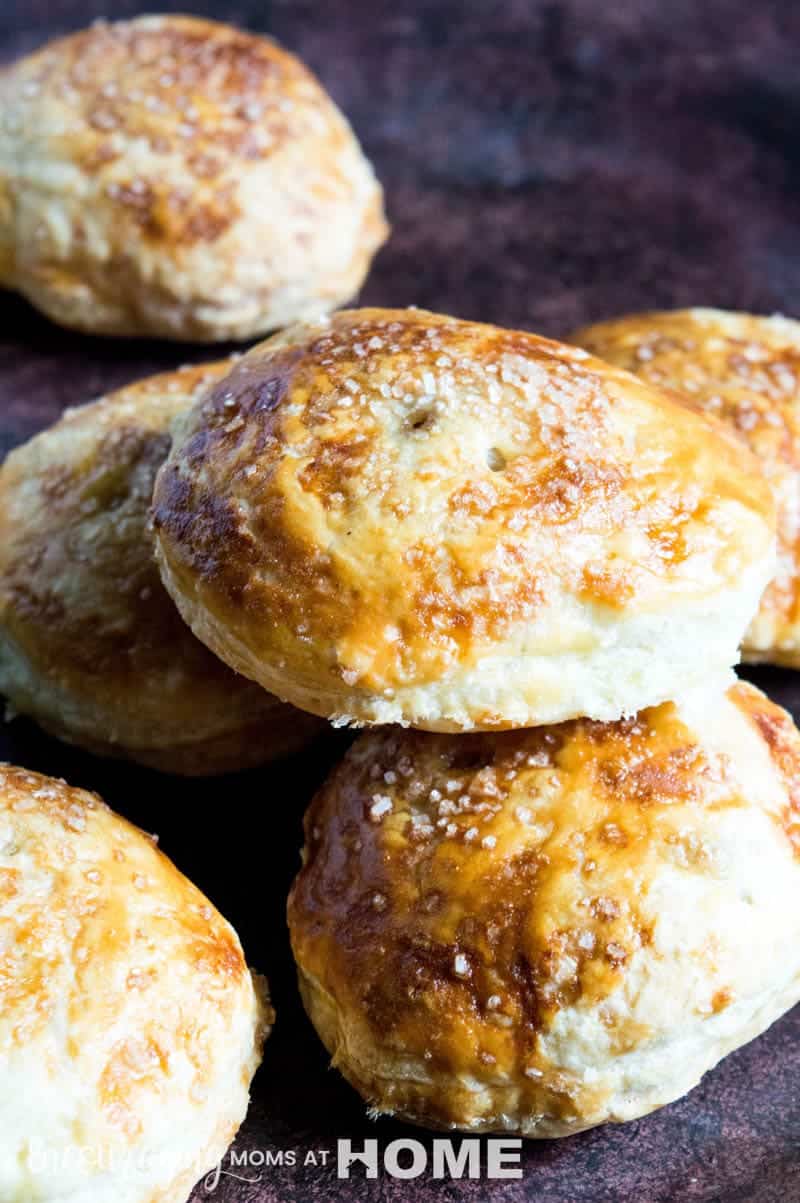 Print
Mini Pumpkin Hand Pies
Ingredients
2 Tablespoons Flour
1 Package Puff Pastry (Thawed)
4 Ounces Cream Cheese (Softened)
1/4 Cup Pumpkin Puree
1 Teaspoon Cinnamon
2 Teaspoons Pumpkin Pie Spice
1 Tablespoon Brown Sugar
1 Teaspoon Milk
1 Egg Yolk
1 Tablespoon Water
3 Tablespoons Coarse White Sugar
Instructions
Preheat oven to 400 degrees Fahrenheit.
Beat egg and water in a small bowl, set aside.
In a medium bowl, add in cream cheese, pumpkin puree, cinnamon, pie spice, brown sugar, and milk. Whisk together until smooth. Set aside.
On a floured surface, unfold one puff pastry and roll one baking sheet to create a 12 inch square. Using a two inch circle cookie cutter, cut out 16 circles. Repeat with the extra roll, and set that set aside.
Fill 16 circles with 1 ½ teaspoons of pumpkin mixture. Brush the edges with egg mixture. Top with another circle puff pastry. Pinch the edges together and crimp ends with a fork.
Brush the top of the pastry pies with egg mixture, cut three small slits on top of the pies. Sprinkle with coarse sugar. Place pies onto baking sheets. Bake 20 minutes, or until the pies are golden colored.
Remove from oven and allow to cool for ten minutes.