This is our very favorite slow cooker recipe. It is super easy, and we always have tons of leftovers. The meat can be used in a variety of delicious ways too! If you need something quick for supper tonight, it's time for Slow Cooker Pulled Pork. This recipe can easily be used in the awesome Instant Pot.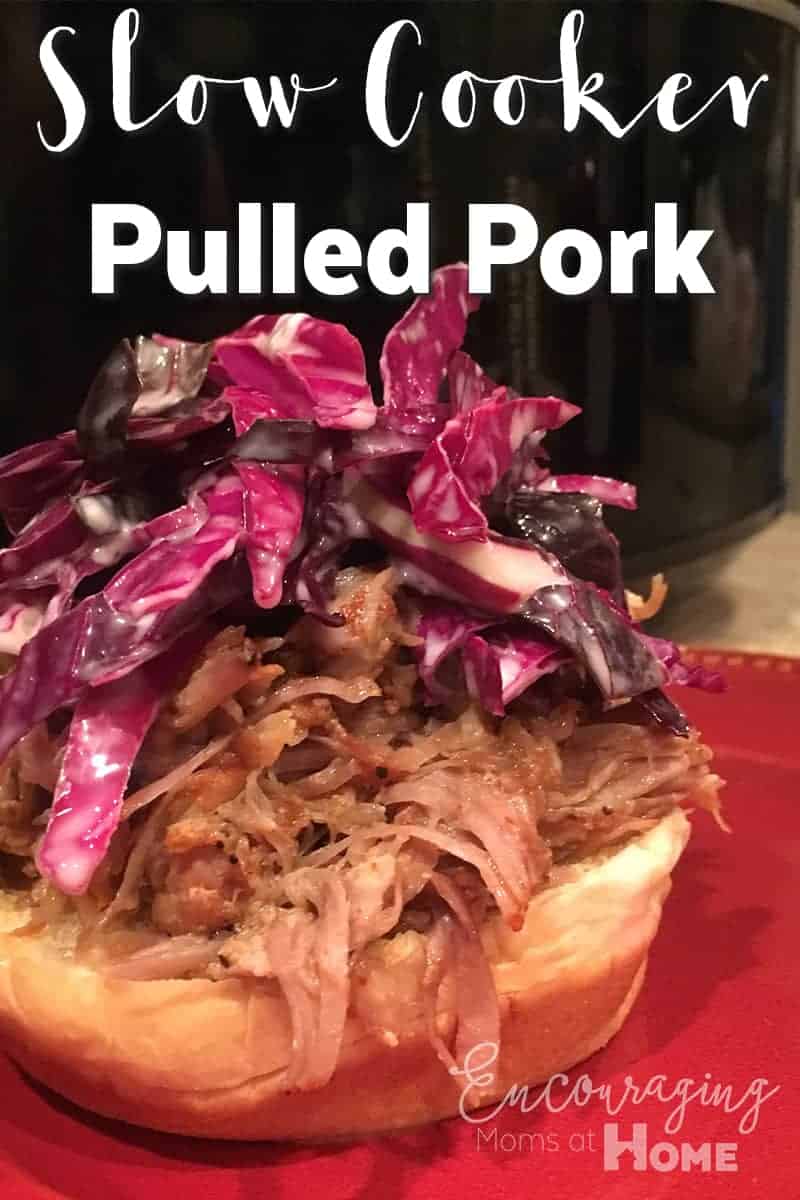 We mix up the slow cooker pulled pork recipe and put it directly in the crockpot for 4 hours on high or 6 hours on low. If we don't want to use it right away, we put the uncooked pork in a freezer bag and either refrigerate it for the next day or freeze it for whenever we want to use it. If you freeze it uncooked, you need to thaw it in the refrigerator overnight before you throw it in the crock pot.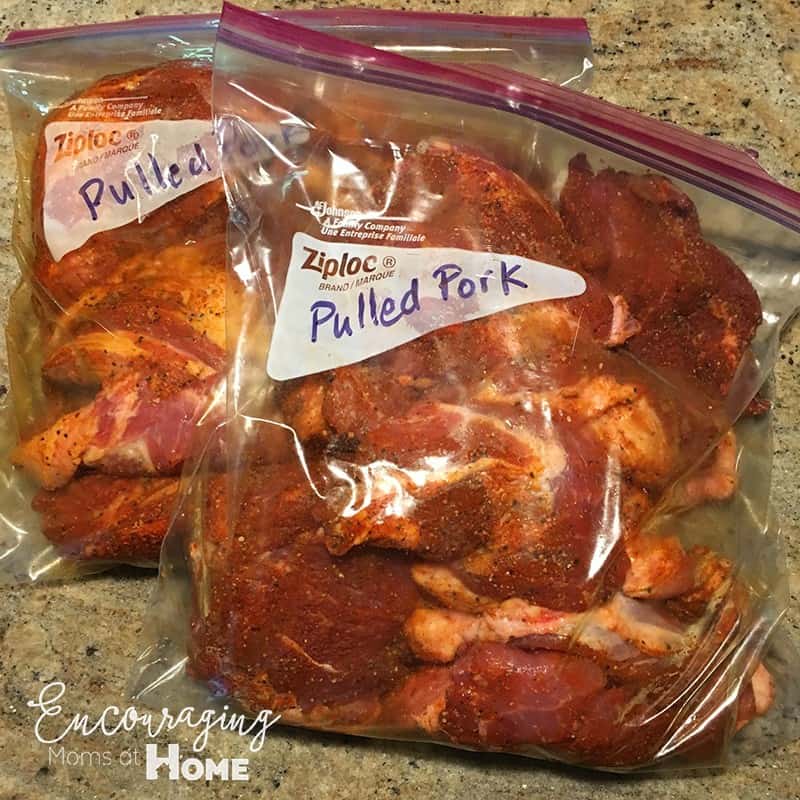 For our first meal, we serve it on buns topped with this with fresh purple sweet southern coleslaw and barbecue sauce. We will serve potato salad and more coleslaw on the side for a delicious meal. Sometimes we will serve it sans bun and have cornbread instead.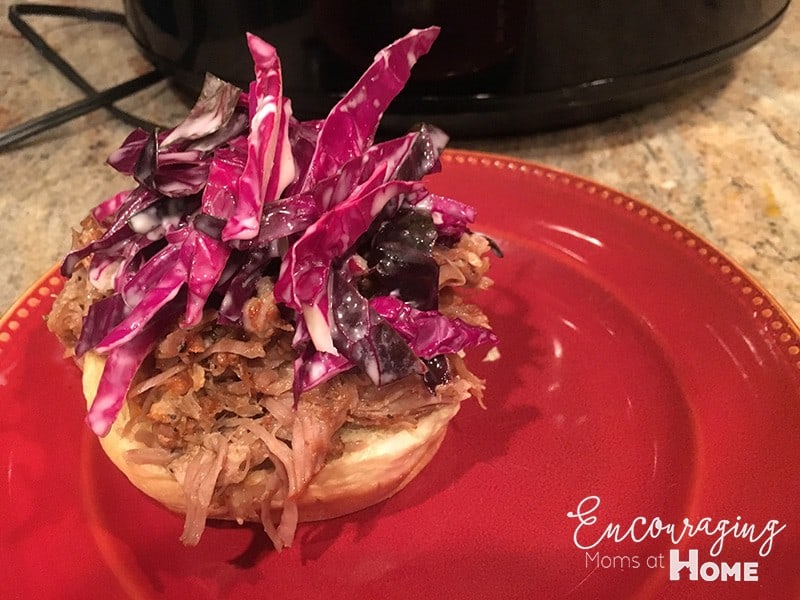 For our second meal, we make cilantro rice and serve the pulled pork Chipotle style on rice with sour cream, salsa, and guacamole.
For our third meal, we make pork barbecue nachos in the oven. We spread out the nachos, and then cover with meat, black beans, barbecue sauce, cheddar cheese and top with salsa and sour cream when it comes out of the oven all melted and gooey.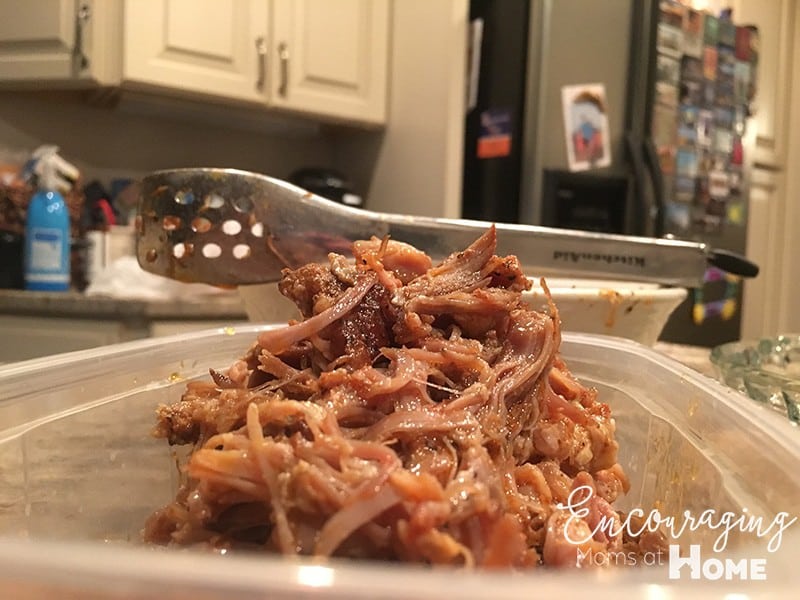 As you can see, we get three very different and very delicious meals from this one pot. We usually cook a 5-6 pound roast for our family of eight and have enough to use it two or three ways depending on how hungry our teens are.
The pulled pork also works well reheated and can even be frozen and reheated for sandwiches later.
We've changed up the instructions to make this our own, but the original recipe got its start from Cheater Barbecue: Anytime, Anywhere by Mindy Merrell. We highly recommend that cookbook!
Click on the little green printer to print this recipe! You'll find it just above the recipe card below, on the right side.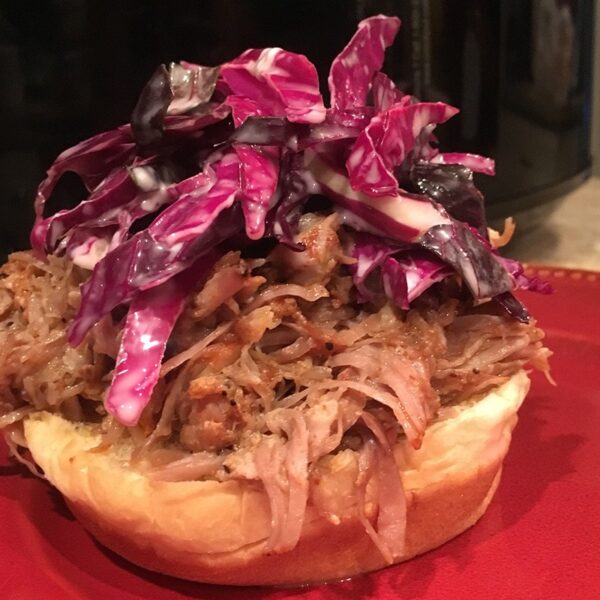 | | |
| --- | --- |
| | |
Cut the pork into chunks to facilitate a faster cooking time. Mix the dry rub ingredients together. Coat one or two sides of the meat chunks in dry rub. Place in the crockpot and add liquid smoke if desired. Cook for 4 hours on high or 6 hours on a low.
You may not need the entire recipe for a 5-6 pound pork butt depending on how much spice you want on it. My husband uses the whole recipe when he does the cooking, I use about half. If he has extra rub at the end he just dumps it all in the slow cooker!