After finishing up my collection of Free Nativity Printables and Coloring Pages and our Advent and Jesse Tree Activities post, I decided I needed to expand that a little bit and also have a collection of Nativity Crafts and Activities. Because sometimes we get tired of coloring and cutting and pasting and writing and we just want to build. Build! It's like the mantra of this household. So many hours around the LEGO® buckets!
Seriously, I'm hoping having some building and crafting Nativity projects will make our Christmas celebration just a little more palatable for all the boys in this house. And the crafty girls. Just all of us.
And just for the record, I'm also kinda excited about the Nativity Snacks in this collection. Wow.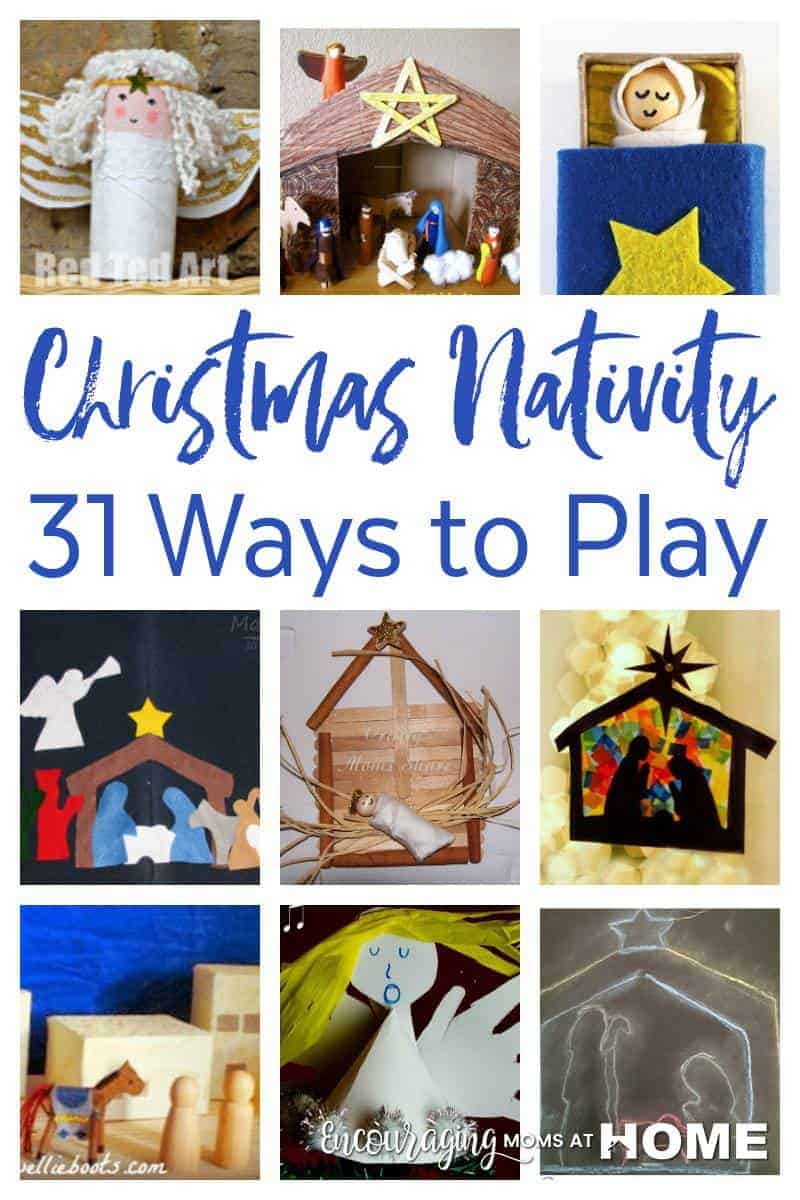 Christmas Nativity Ornaments
Clay Nativity Ornaments from Crafty Moms Share
Christmas in the Barn Kid Made Nativity Ornament from Something 2 Offer
Nativity Pretend Play Activities
Geometric Shapes Nativity Scene from Mama Smiles
Toilet Roll Nativity – The Angel from Red Ted Art
Nativity Story with Paper Puppets from Planet Smarty
Nativity Play Shepherd's Costume from Jennifer's Little World
Cardboard Nativity Stable Tutorial from Mama's Happy Hive
Nativity Small World Play Scene: Bethlehem from Sun Hats and Wellie Boots
Christian Nativity Arts and Crafts
Footprint Manger Tiles from Fun Handprint Art
Popsicle Manager from Crafty Moms Share
Handprint Angels from Kids Craft Room
Matchbox Manger Craft from The Craft Train
Baby Jesus in a Craft Stick Manger from Mama's Happy Hive
Stained Glass Nativity from Housing a Forest 
Christmas in the Barn Baby Jesus Ornament from Something 2 Offer
Nativity Chalk Silhouette from The Chaos and the Clutter
Christmas Nativity Decorations for Kids to Make
Decorating a Nativity Tree from Sun Hats and Wellie Boots
Nativity Block Tutorial from Chicken Scratch NY
Wooden Spool Nativity from Rubber Boots and Elf Shoes
Do You Want to Build a Nativity? from Sight and Sound Reading
Christian Nativity Story Telling
Nativity Story Stones from Crafty Moms Share
Montessori Inspired Worship Space from Christian Montessori Network
Homemade Nativity Set from Sugar Aunts
Felt Nativity Scene from Mama Smiles
Christmas Nativity Snacks
Nativity Snack from True Aim Education
Jelly Baby Jesus Cakes from The Mad House
Christian Nativity Hands-On Play and Learn
Montessori Nativity 3-Part Cards from Christian Montessori Network
Nativity Sensory Bin from Growing Hands on Kids
Little Drummer Boy Activities from Every Star is Different
Away In A Manger Christmas Carol Sensory Bin from Sugar Aunts