I've been teaching for VIPKID for a full month now and boy have I learned a lot! I've learned that I actually can be a morning person…and like it! I've also learned that I can teach with a fever of 101.9. I learned that this company is growing so fast and teachers are in high demand. I also learned that VIPKID listens to our suggestions and really cares about their teachers.
I've also learned that when you blow bubbles at your laptop you should aim just above the camera…not the keyboard. Lol
One of the best things I've learned is that I LOVE teaching Chinese students how to speak English.
I came into this with no…zero…nada ESL experience. Believe me when I tell you, you can do this job. Not a teacher? No problem. No experience with ESL? No problem. If you have a Bachelor's Degree and experience working with children, you can apply! If you have an energetic/positive personality and attitude, you can thrive.
Let me address the lessons I learned in this first month. As I do, they'll shed even more light on how awesome this opportunity is. When I say I can be a morning person and like it, you should know that I was the night owl of all night owls. I love to stay up late chatting with friends after the kids are in bed, or writing, or chilling with my husband. I also love to sleep in and am always thrilled when Saturday rolls around and I can sleep past 7.
I started this job thinking I could teach from 9pm-1am every night. It turns out the peak times are 6am-9am every morning for the EST time zone. That's not to say you can't teach at night, but it's much more difficult to get consistent bookings in the evenings because that is the time that most students are heading to school. It took a few weeks for me to settle in but I am now loving my schedule! I get up, I teach for 3-4 hours and then I have the rest of the day to hang out and play with my kids!
Let me translate that for you…I won't miss any pool time this summer!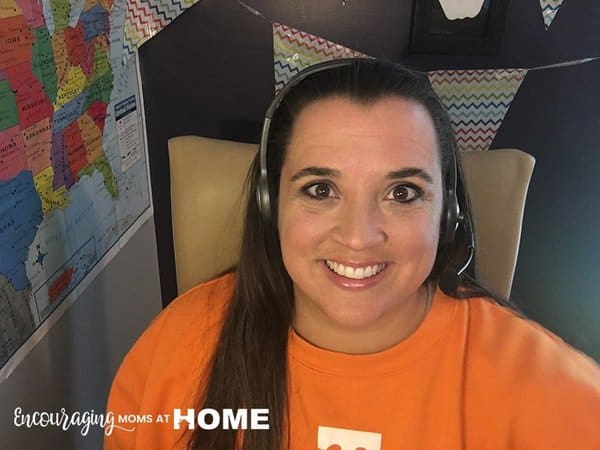 I literally teach in my pajama pants and an orange shirt (VIPKID's color). I come downstairs, make an egg or some sausage, drink some water, and put on make-up. It cracks me up almost every morning to be putting on make-up with pajama pants on. I love it!
It's true that I taught with a fever of 101.9. I considered canceling my classes for the day but decided to pop some Advil and power through and I'm so glad I did. It wasn't so bad! I had a nasty virus, fever, and cough for 9 days straight with a lingering sore throat for 2 weeks. I don't deny that during that sick time I taught and went straight back to bed, but what other job can you still work with a fever and get paid? I didn't have to use up any of my "sick days."
VIPKID does allow you to have 3 days of canceled classes (more or less) but I'm saving those cancelations for a time when I'm really sick…like vomiting, lol. It's kind of empowering to realize I can get through with an illness.
This company is growing so fast! They really do need teachers and are excitedly offering referral incentives. What does this mean for you? You can begin teaching and start sharing your link and get paid if someone gets hired and starts teaching too. The incentive changes fairly frequently but is most often a small cash bonus. Those bonuses can add up though, so don't sell yourself short; share your link! Teachers are in high demand! They need you!
VIPKID really has proven to me that they listen to their teachers. There were some complaints here and there that I've noticed and they truly take our suggestions and concerns into account and make changes. Like real, solid changes! They are not just some huge company on the other side of the world employing a bunch of cogs in their machine. They listen to concerns, they respond to emails, they make changes when necessary. I love that about them!
I am fully aware that companies who take off so fast will have some growing pains and I love it when they own those bumps in the road and listen to their people. Now, before you read too much into this and think there are tons of negatives, there aren't. ☺
The changes I'm referring to are things like giving parents one week to leave feedback on your class instead of letting them go back and leave feedback from classes that were 3 months ago, taking a look at referrals who failed their mock class to give them a second chance, stuff like that. Good stuff.
I've recently started using bubbles as a reward for my students. (This is a silly and random side note, but if you use bubbles, don't blow them down toward your keyboard. You'll have a sticky mess. Common sense, I know! But you'll thank me later. Aim just above the camera and you'll be good to go.) The kids love it!
Finally, I LOVE teaching students in China! I love everything about this opportunity. I love that I have a small part in helping a child have a potentially better opportunity for work, life, etc. when he or she grows up. I love seeing their sweet smiles and hearing them thank me for the bubbles. I love hearing a student excitedly waiting my arrival on the other side of the world as they count down the seconds until my camera turns on and they can see me.
I love it when a lightbulb goes off and for the first time they pronounce their t as /t/ (short t sound) and not /tuh/…forever improving and changing the way they speak English. Patuh becomes "pat"…satuh becomes "sat" and so on.
I love making a difference. I love making their day with bubbles or giant candy suckers or putting emoji stickers all over my headset.
These lessons are all created for you, you just get to come in, turn on your camera, and add your own excitement and energy to the lesson. You get to bring it to life for them! I love that!
After a month with VIPKID I've taught 167 classes, had 15 positive parent reviews (no negative reviews), zero teacher no-shows (aka I didn't oversleep—yay!), a few student no-shows (it's ok, we still get paid) and made over $2,000. All while working from home while my children slept. I have had to do very little prep and no grading. To say this job is fulfilling and inspiring is an understatement. I often feel like Wonder Woman as I sit at my computer changing the life of a little one in my pajama pants and make-up.