The quest for the perfect Father's Day gift that Dad will love but the kids can make themselves is a challenging one! You could just head to the mall and buy a tie, chocolate, socks, and other stuff. We've gone that route – and sometimes that's the perfect answer. Or you could have your children make something from this fun list. We've found a ton of perfect gifts for Dad here, now all you have to do is choose.
These adorable Father's Day goody bags from Little Family Fun are perfect for holding Dad's favorite candy!
For the dad with a lot of paper on his desk, this "You Rock" Paperweight from Our Family World is the perfect gift. Also includes homemade coupons and a coin catch craft.
Kids get to answer a bunch of questions about Dad on these cute Daddy Ties from The Crafting Chicks.
Sweet Photo-Bookmarks for the dad who likes to read from Eyes on the Source
The Father's Day Sharpie Mug from I Heart Arts n Crafts is perfect for little kids and big kids alike.
Decorate your table fancy and bring a smile with this fun Father's Day Napkin Fold from How About Orange.
Give Daddy a round of applause with this simple and sweet Father's Day Card from Tiff Keetch — It is possible to do a variation on this, and have the child write out the words as opposed to using transfers.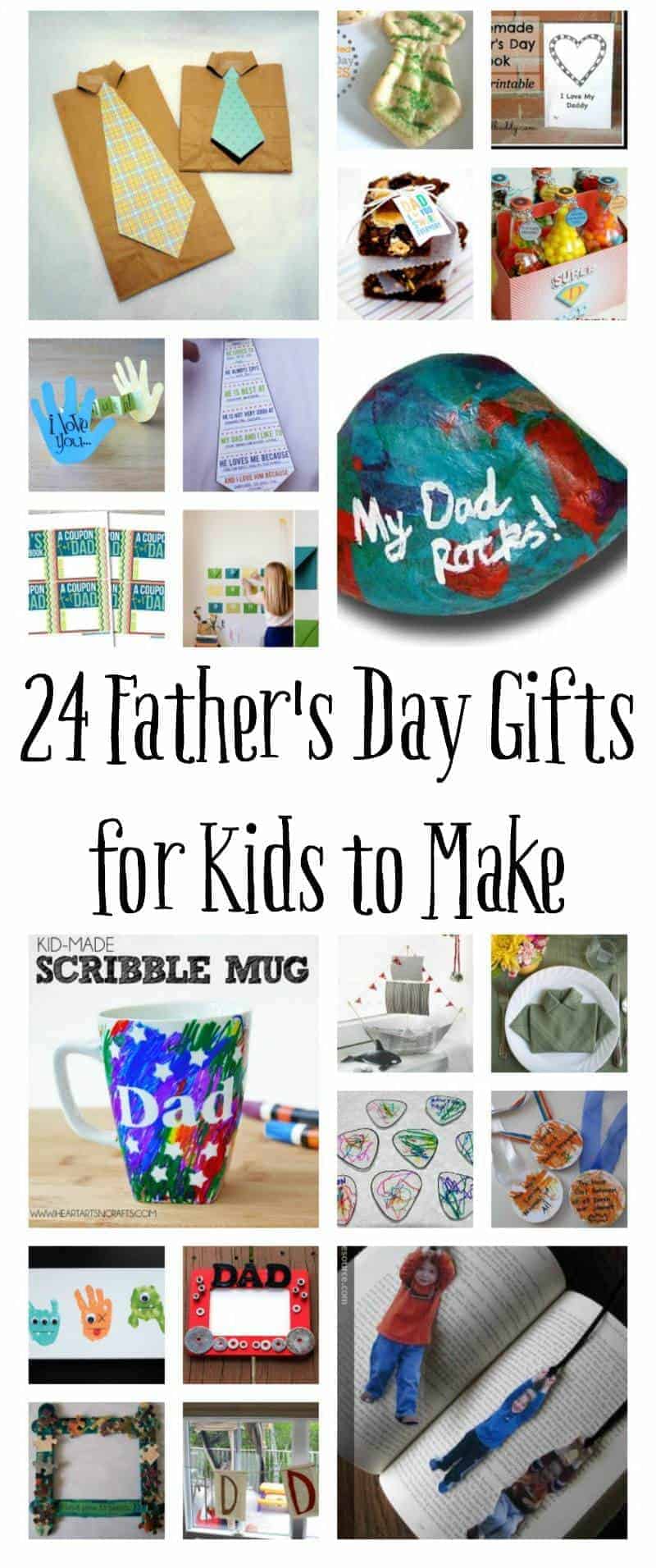 The Envelope Surprise Cards from Oh Happy Day could hold these Free Printable Father's Day Coupons from I Should Be Mopping the Floor.
Yummy S'mores Brownies from Sarah Hearts with a precious printable tag — these would be awesome to send home to Dad if you are all grown up!
Have fun making this Father's Day Chalk Photo from Crafty Texas Girls for Dad's desk at work.
The Father's Day Super Dad Pop Box Set from Lillian is perfect for the dad with the sweet tooth.
Let your little ones make something special — this Father's Day Picture Frame from Our Crafts n Things.
Personalize your gift with the Free Printable Father's Day Book from Buggy and Buddy.
Decorate your home with this Father's Day Banner from East Coast Mommy Blog.
Picture Frame Variations for bigger kids from We Made That
The Handprints Apron is perfect for the dad manning the grill or cooking dinner, from Glittering Muffins.
Are you enjoying our list of awesome gifts kids can make for Dads? We've got more coming below, but first we wanted to ask if you'd be willing to share this post with your friends.
[sociallocker id=20695]
Thank you so much for sharing our post! Click the link to download your free Father's Day printable cards.
–>Download here.<–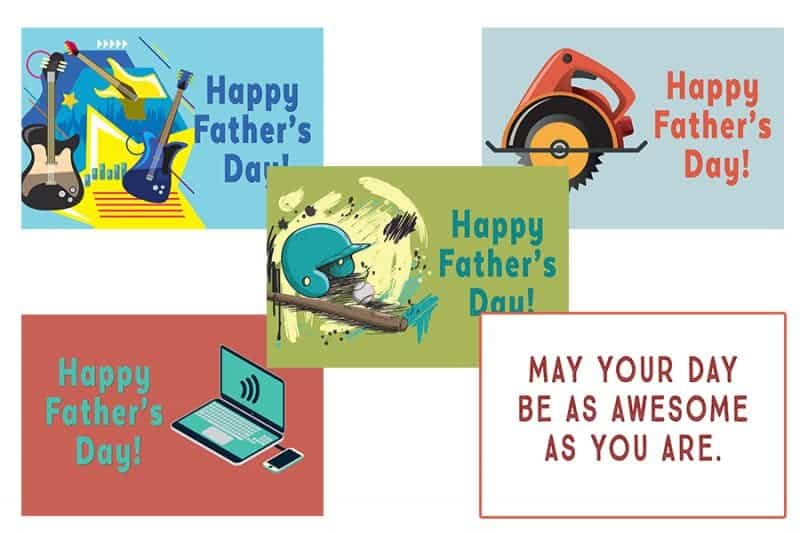 [/sociallocker]
Have fun making and giving this Handprint Monster Card from Meet the Dubiens.
Father's Day Room Service Free Printables will decorate the breakfast tray nicely from Inspired by Family Mag.
Make Best Dad Metals from No Time For Flashcards to show your pride in Dad.
These Tie Cookies from No Time for Flashcards will be a nice treat in the afternoon.
For the traveling daddy – a Handprint Pillowcase is just the ticket — from Adventures in Wunderland.
For the musician Dad or music fan – Personalized Guitar Piks from Happiness is Homemade.
A Really Cool Boat plus three other options that the child can make for Dad from The Huffington Post
No time to shop? Here are a few of our favorites!