The Instant Pot (<– that's my review) makes it so easy to do so many tasks, and so much quicker to cook certain things with the pressure cooker function. For instance – did you know that making hard boiled eggs that peel perfectly is super easy with the Instant Pot? And in fact, anything you like to make in your crockpot, pressure cooker, or rice cooker can be made in your Instant Pot instead. Enter to win one at the end of this post!
You can steam vegetables, puree vegetables, cook rice, and make hundreds of different dishes. One of the things I do at least once a week is throw a bunch of chicken thighs into the Instant Pot with some garlic, salt and pepper, push the poultry button, and pressure cook them. It takes fifteen minutes and the resulting chicken is shredded or diced and used on bbq sandwiches, chicken salad, enchiladas, or whatever we need pre-cooked chicken for.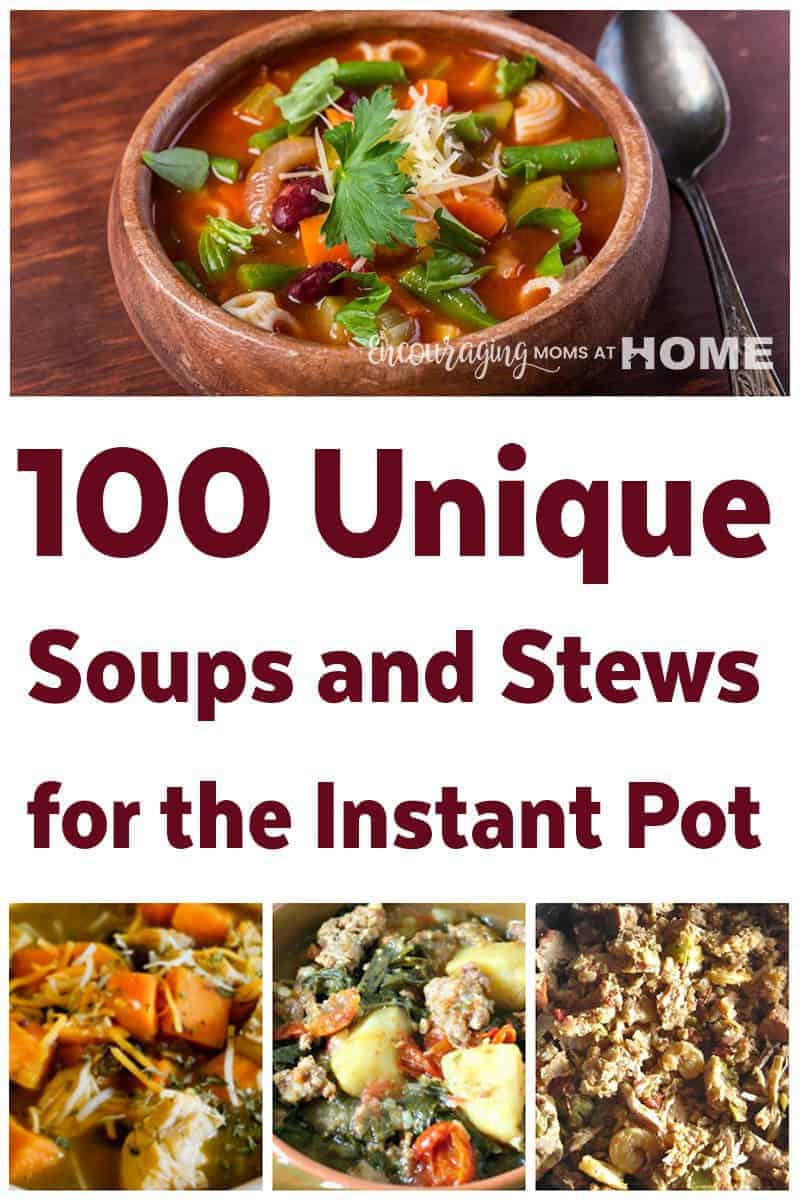 At the end of the day, comfort food is what we like best and nothing says homemade comfort like soups and stews. That's why I've been scouring the web for awesome soup and stew recipes for the Instant Pot.
One of the reasons I love to use the Instant Pot for my soups and stews is because I almost always sear the meat first. With the Instant Pot you can do that right in the pot – keeping all the yummy goodness that results on the bottom of the pan IN THE SOUP OR STEW instead of left behind in your skillet.
I tried to find a huge variety of soups and stews that are written with instructions for the Instant Pot in the list of links below. This is not a list of 50 mirror-image beef stews from the first two pages of search! Like I said, it's a great variety from Japanese Stew to African Stew to Chipotle Chili Soup and everything in between. I recommend bookmarking this page or pinning it to Pinterest so you can find all of these fabulous Instant Pot recipes later – all in one place!
Instant Pot Soups
Almost any soup recipe can be altered to work in the Instant Pot. In fact – I can't think of any soups that I personally make that won't work perfectly in the Instant Pot! The reason is that almost every soup I make either instructs me to sauté veggies and/or meats first (which you can do in the Instant Pot) and then add the liquids and cook (which you can do with the Instant Pot pressure cooker or slow cooker function) OR it instructs me to throw everything in the pot, bring it to a boil, and simmer. Which works with the Instant Pot when you use the sauté function first to get the boil and then switch to slow cooker to keep the simmer. Perfect!
Here are a whole bunch of Instant Pot recipes that have already been figured out for you – but don't be shy! Our FAVORITE soup cookbook is simply called Soup: A Way of Life – by Barbara Kafka just in case you want more fabulous recipes to try than what I've listed here!
Chicken and Sweet Potato Chipotle Chili from Intoxicated on Life
Instant Pot Beet Borscht from The Primal Desire
Football Chili for the Instant Pot from Awe-Filled Homemaker
Garden Harvest Soup from This is So Good
French Onion Soup from Successful Homemakers
Cuban Black Bean Soup from Jeannette's Healthy Living
Instant Pot Navy Bean Soup from Kitchen Chicks
Instant Pot Minestrone from Don't Mess with Mama
Swiss Chard Stem Soup from Green Talk
Chicken Tortilla Soup from Flavorrd
Cheddar Broccoli and Potato Soup from Center Cut Cook
Healing Bone Broth in the Instant Pot from Ben and Me
Hearty Broccoli Soup in an Instant Pot from Cheftographer
Veggie Broth In The Instant Pot from The Homesteading Hippy
Chicken Faux Pho from The Sophisticated Caveman
Instant Pot Ham & Potato Soup from Mashup Mom
Instant Pot Italian Wedding Soup from Adventures of a Nurse
World's Fastest Lasagna Soup from Scratch Mommy
Mexican Albondigas Soup from Rebooted Mom
Ethopian Style Spinach and Lintel Soup from The Kitchn
Low-Carb Soup with Ground Beef, Green Beans, and Tomatoes from Kalyn's Kitchen
Mexican Chicken Soup from Frugal Mamas
Butternut Cauliflower Soup from Peas and Crayons
Winter Melon and Tofu Soup from Maomao Mom Kitchen
Cream of Celery Soup (Paleo, Vegan) from Forest and Fauna
Instant Pot Beef Curry from Healy Eats Real
Smoky Lentil and Potato Soup from Mel's Kitchen Cafe
Beef Barley Soup in the Instant Pot from Little Spice Jar
Instant Pot Chicken Soup from Mommypotamus
Chunky Beef Cabbage and Tomato Soup from Skinny Taste
Cheeseburger Soup in the Instant Pot from
Instant Pot Zuppa Toscana from Margin Making Mom
Instant Pot Cheesy Cauliflower Potato Soup from Homemade Food Junkie
Creamy Thai Cocount Chicken Soup for the Instant Pot from Rasa Malaysia
Authentic Japanese Raman from Steamy Kitchen.
Instant Pot Stuffed Pepper Soup from Rebooted Mom
Instant Pot Chinese Congee from The Curious Cocount
Unstuffed Cabbage Roll Soup from Sugar Free Mom
10 Minute Baked Potato Soup in the Instant Pot from Living Locurto
Red Lentil Chili from Healthy Girls Kitchen
Instant Pot Tomato Basil Soup from The Taylor House
White Bean Chicken Chili from Allergy Free Alaska
Sausage, Kale and Sweet Potato Soup from Wholesomelicious
Fresh Corn Chowder from Pressure Cooking Today
Instant Pot Thai Carrot Soup from Tessa The Domestic Diva
Hamburger Soup for the Instant Pot from Crafty Antoinette
Sweet Potato, Black Bean, Quinoa Chili from The Centsable Shoppin
Spicy Collards and Black-Eyed Pea Soup from Fat Free Vegan
Beef Pho from Little Family Adventure
Fennel and Cauliflower Soup from Foraged Dish
Instant Pot Stews
Like soups, stews are super easy to adapt for the Instant Pot. If you sear the meat first – sear the meat directly in your Instant Pot. Otherwise, just throw in all the ingredients according to the recipe instructions and then either use the Pressure Cooker setting for a fast meal or use the slow cooker setting to fix it in the morning and forget it all day.
Since I'm home all day, if I remember I will start my stew in the Instant Pot at lunch time so that supper is ready to go at supper time without any fuss on my part. But, if I forget I can easily just throw it all and use the pressure cooker setting for dinner to be ready in 30 minutes or so depending on the ingredients. It's so easy to make a stew this way!
Beef Bourguignon in the Instant Pot from Encouraging Moms at Home
Instant Pot Korean Chicken Stew from Ahjumma Recipes
Bacon Lover's Stew from Chase A Thompson
Pork Vindaloo from Magic Skillet
Instant Pot Dal Makhani from My Heart Beets
Goat Stew in the Instant Pot from Nom Recipes
Chocolatey Beef Stew for the Pressure Cooker from Feisty Tapas
Instant Pot Chicken Paprika (Paprikas Csirke) from Instant Pot Eats
Ropa Vieja: Cuban Shredded Beef Stew from Flavored
Instant Pot Carne Guisada from My Heart Beets
Instant Pot Chicken Pot Pie Stew from Farm and Foodie
Cashew Chicken Curry from Le Creme De La Crumb
Instant Pot Goulash from It's Gravy Baby
Beef and Butternut Squash Stew from Delicious Meets Healthy
Spicy Ethopian Stew from Simply Daily Recipes
Japanese Pork Tender Rib Stew from Christine's Recipes
Jambalaya from Traditional Cooking School
Winter Spanish Stew from Oh The Things We Will Make
Pressure Cooker Venison Stew from Pressure Cooking Today
Paleo Brunswick Stew from Payton's Paleo
Instant Pot Kimchi Stew from from Ahjumma Recipes
White Bean, Chickpea and Tomato Stew from The Washington Post
Thai 5-Spice Pork Stew from I Heart Umami
Mung Bean Vegan and Gluten Free Stew for the Instant Pot from Knead to Cook
Paleo Chicken and Smoked Sausage Stew from Foraged Dish
African Peanut Butter Beef Stew from Azure Standard
Instant Pot Spicy Beef Stew from What Great Grandma Ate
Oxtail Stew in the Instant Pot from Urban Jane
Chicken and Sweet Potato Stew from Bake, Brew and Stew
Pork and Pineapple Stew from Provincial Paleo
Andouille Sausage Stew from Everyday Maven
Instant Pot Beef Lentil Stew from Busy Mommy Media
Instant Pot Chinese Stew from Eat Beautiful
Pressure Cooker Lamb Stew from Paleo Mom
Pork and Hominy Stew (Pozole) from Skinny Taste
Hoppin John Stew (Black-Eye Peas, Rice and Greens) from The Watering Mouth
Chicken Stew from Side-Tracked Sarah
Pork Stew with Black Beans and Sweet Potatoes from Spark Recipes
Instant Pot Italian Sausage Stew from Raising Generation Nourished
Instant Pot Beef Luau Stew from Ancheta & Co.
Spanish Infused Chicken Stew from Love of Creating Flavors
Tuscan Chicken Stew from Sweet Peas and Saffron
Apple Spice Beef Stew from Adventures in Partaking
Enchilada Chicken Stew from Paleo OMG
Lemon Olive Chicken from Health Starts in the Kitchen
Beef Masala Curry from Gastrosenses
Vegan Green Chili Stew from Brand New Vegan
Middle Eastern Eggplant Beef Stew from My Life Cookbook
Feijoada Brazilian Beef Stew from From a Chef's Kitchen
Chicken Sopa De Lima from The Yum Yum Factor